Where and When to Spend
and Save on Stone Benchtops
8 Tips For Maximising Your Budget. Are you in the planning stages of your kitchen and trying to decide on the best design for your budget?
Our team of experts all agree that it is critical to set your design intentions and know your budget limitations upfront, to ensure you can achieve an effective and affordable kitchen design that excites you. With such planning, and the right product specifications in place, rest assured that you can affordably create a design that suits your budget.
Here are some industry insights which could be the key to delivering your stone benchtop, within the confines of your budget:
Understand the intentions for your home, ie. rental, holiday home or forever home and splurge according to how much value you will get back. Work through the plans in your home for where you will need your stone. Eg. If you are doing a full renovation and you need stone for kitchen, bathroom vanities, laundries etc it's a good idea to work out the math of how you can use our slabs to make the most out of them. If you use the same colour throughout, then any left over parts of the slabs can be used in the bathrooms and laundry. Your kitchen designer will be able to help you maximise the application of slabs required.
2. Select from a range that fits your budget
Talostone
®
has 4 ranges to choose from; Premium Marble, Marble, Deluxe and Standard. Each range has a different price point. We suggest selecting at least 2 colours from different ranges and get comparative quotes on both. Eg. Premium Marble range (
Calacatta Luxe™
) and Marble range (
Carrara Gioia™
) to see which one fits your budget.
BELOW
Designed by
Builders Wife
Builder
King Homes NSW
Amazing kitchen with a curved mitred island end. Looks incredible, but time consuming for the stone mason to create this profile edge and will cost extra.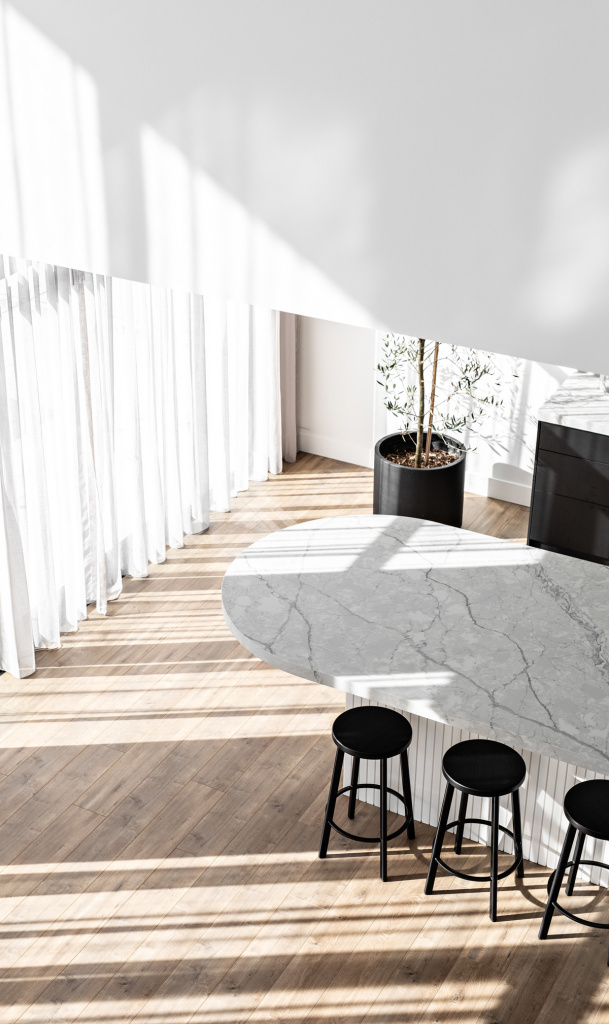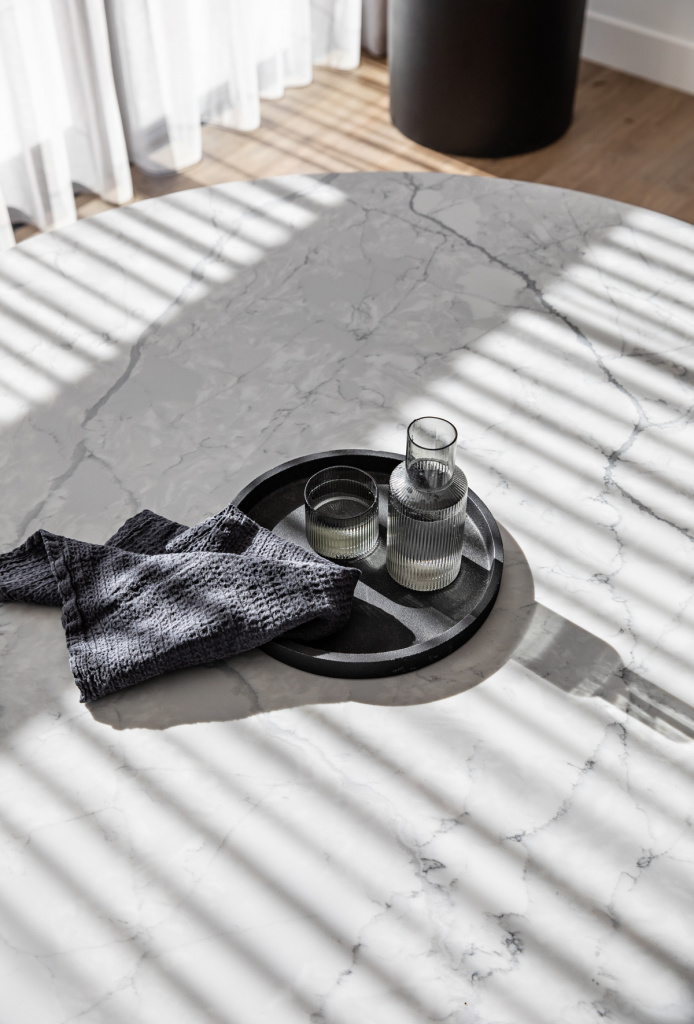 You can select from 2 different ranges. In the kitchen, you could use our Premium Marble or Marble range for the kitchen and our Deluxe range or Standard range for bathroom and laundry. Keep in mind that you may have some slabs left over from the kitchen, so in this case you could use the leftovers if possible.
❝
To deliver the Wow factor in your kitchen, but still stay in budget you could use our
Calacatta Luxe
™
from our Premium Range and our
Neutural White
™
from our Deluxe Range
There are 3 different whites in Talostone's
®
range to select from
Neutral White
™
,
Arctic White
™
and
Serene White™
. These whites can be used on their own and look stunning, or our
Neutral White
™
was introduced to pair with our Premium Marble range. It matches beautifully with the Premium Marble colours like
Super White
™
and
Calacatta Luxe
™
. Why is this a good idea, you ask? This helps to reduce the overall cost, as you are buying from 2 different ranges. Depending on the size of the kitchen, you could use one slab from our Premium range, to deliver the WOW factor on the island and splashback and use
Neutral White
™
on the back bench, as seen in the kitchen above.
Neutral White
™
is also very popular to use in the butlers' pantry. If you have some parts of the slabs left over from either colour, you can use them on your vanities and laundry as shown above.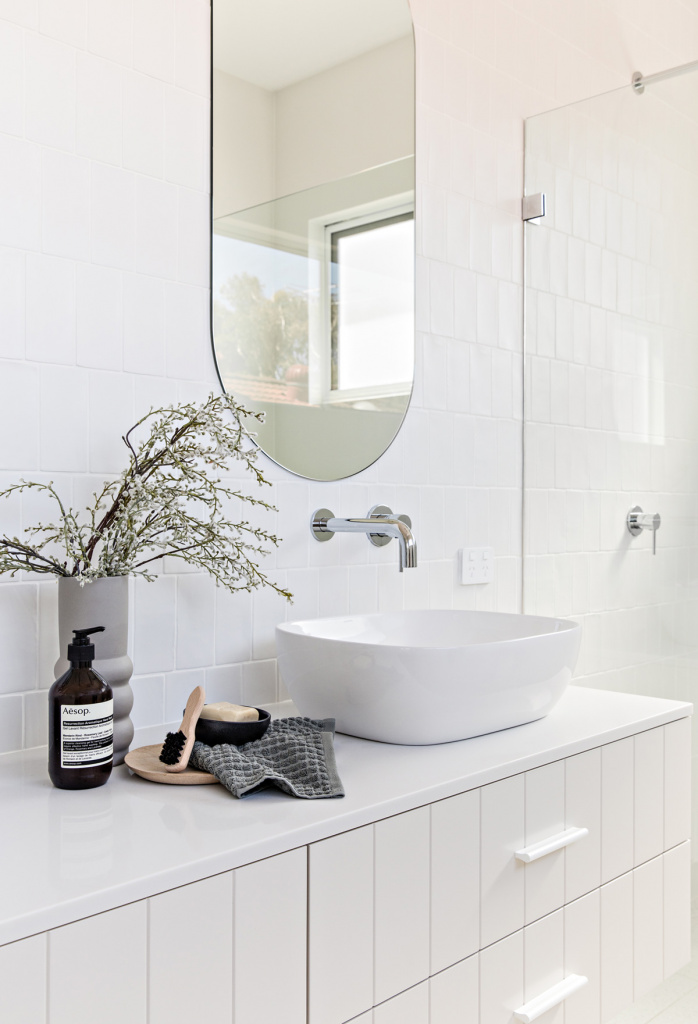 Talostone® slabs come in 20mm and 12mm thickness. If you want your kitchen bench top to be thicker than the standard 20mm, then a stonemason will need to mitre the edge. Mitring the edge takes time to create, therefore you pay more to create this look. If you would really love a thicker bench top but it's stretching the budget too far, perhaps consider a compromise, and settle for 40mm or 60mm on the island and 20mm on the backbench. This thickness still looks fabulous and will of course save money.
Your stonemason will be able to create a variety of edging profiles for your stone benchtop, but the more detailed they are, the more time and money will be incurred.
7. To add waterfalls or not to waterfalls?
Waterfalls are very popular and look gorgeous, but cost more due to extra slabs required and then the cost of fabricating the stone is an additional cost. Is this your forever home? If it is, then this could be a great option for you. If not, maybe you can give the waterfalls a miss.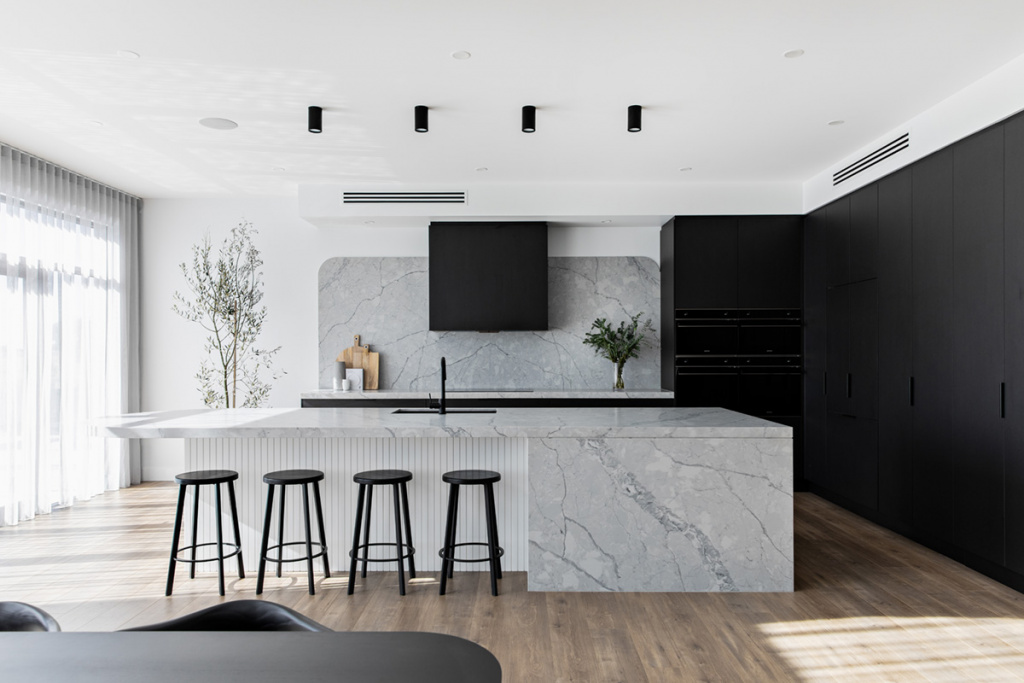 Having engineered stone as the splashback instead of tiles is easier to maintain and can also save you money if you have enough to use with the slab you have purchased for your kitchen. The stone mason can install this while he is there, which saves money on tiling. 12mm Talostone® is perfect for a splash back and costs less than 20mm, but if you have left over slab from your 20mm kitchen benchtop, it's best to use that rather than buying another slab in the 12mm. 12mm slabs are also great as a feature wall in replace of tiles. You might like to have these as a feature wall in the shower. Super easy to clean, with no grout in sight.
TALOSTONE® COLOURS IN PROJECTS
When you break down your design priorities it will make your budget allocation much easier. We think you should dream big, because with clever design and the right product specification you can create the home you desire.
Hopefully we've been able to restore the dream of featuring the perfect stone in your next kitchen project. For more inspiration, have a look online at our product ranges or visit our City Experience Centre.