Three Bird Renovations House 13 — The Australian Staycation
The Three Birds Renovations latest project, House 13 is the ultimate Australian Staycation. Designed and built during a global pandemic, the Three Birds explain, "never before has the term #Staycation been so relevant and the vision for our latest project was created with holidays at home in mind."
House 13 is home to Bonnie's right-hand woman, Three Birds Designer Louisa and her family, including two young boys. "The vibe is relaxed enough for everyday family life, with luxe resort touches. It's coastal but surrounded by our largest piece of living artwork yet, the gums and eucalyptus of the Aussie bush. It's this family's ultimate Australian Staycation."
During Episode 2 of The Three Birds Renovations 'Australian Staycation New Build', Louisa and the The Three Birds discuss the essence of the dream kitchen design. Bonnie excitedly confirms that, "this kitchen is going to be the heart of your home". The girls certainly managed to make this dream come true.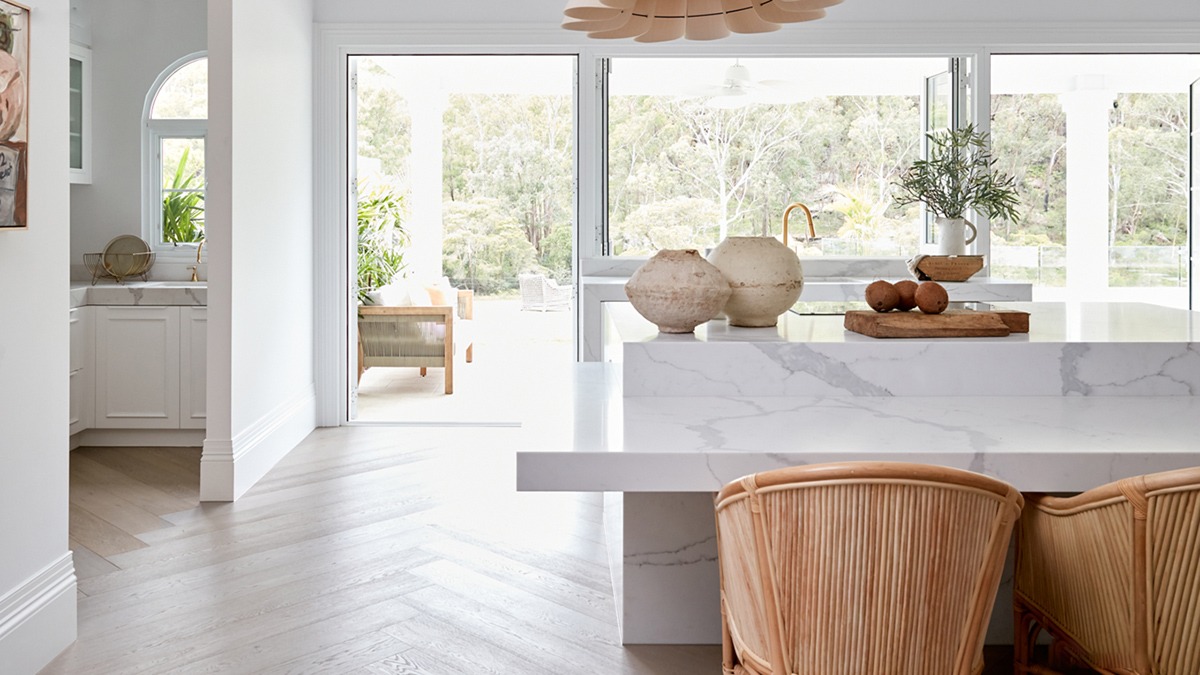 ❝
Calacatta Luxe™ is the little black dress that every home needs," says Bonnie
When starting a huge project like this, The Three Birds share with us how they always begin the design process with creating a vision board. It's a powerful combination of our favourite inspo pics and words that ultimately becomes the bible for our renovation… or in the case of House 13, our new build."
Homeowner and Three Birds designer, Louisa, had an imaginative concept in mind for the kitchen, which challenged the traditional high stool seating at island benches. It was her practical intention that created the perfect storm of form fusing with function.
Louisa wanted a kitchen where she could still be with the family whilst preparing meals. With this in mind the design of the kitchen island was to allow for a generous tall island stone bench top on one side with a flush induction cooktop, and a dropped stone platform which acts as an integrated dining table wrapping around the kitchen island. This inspired design creates a practical and comfortable space for family and friends to sit at the lower section of the bench in dining chairs, rather than high stools.
The elegance of satin polyurethane cabinetry doors paired with a chunky engineered stone bench top is intended to be the showcase of this stunning space. The kitchen island "is the showcase, non-negotiable. We all want it from a design perspective" says Erin from The Three Birds.
"The inspiration for House 13 came from holiday destinations and design elements from all around the globe – it's our most eclectic project yet!"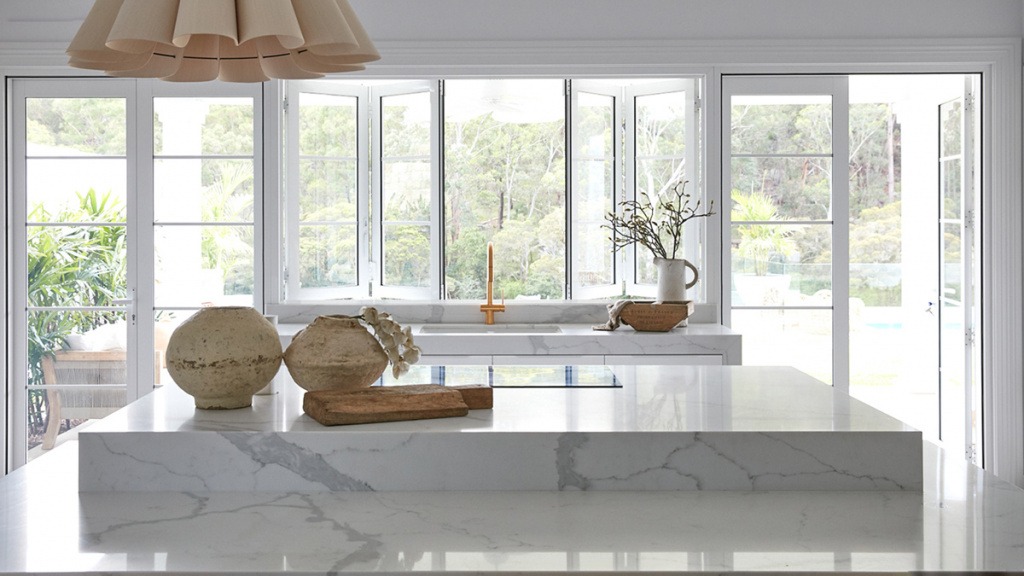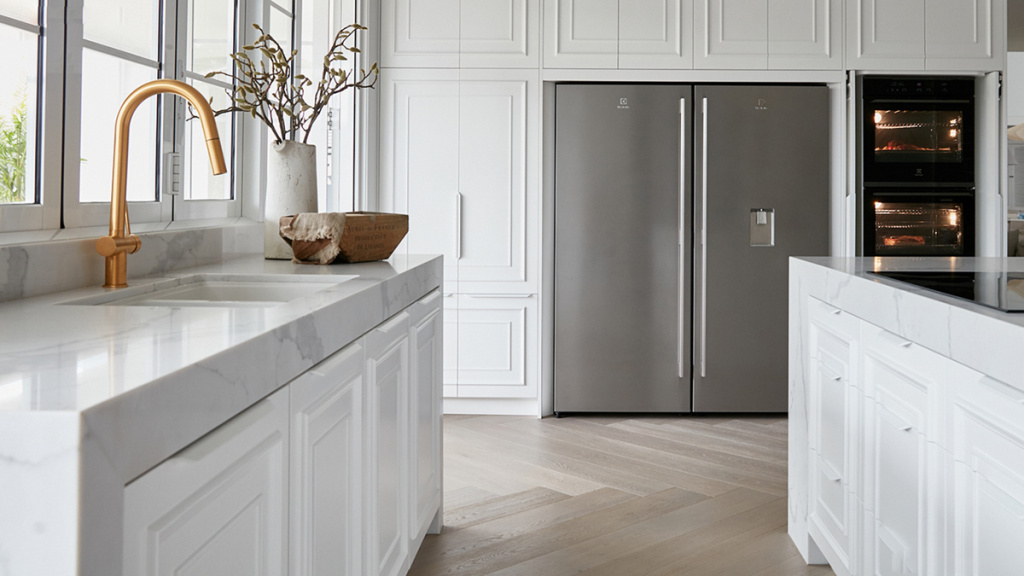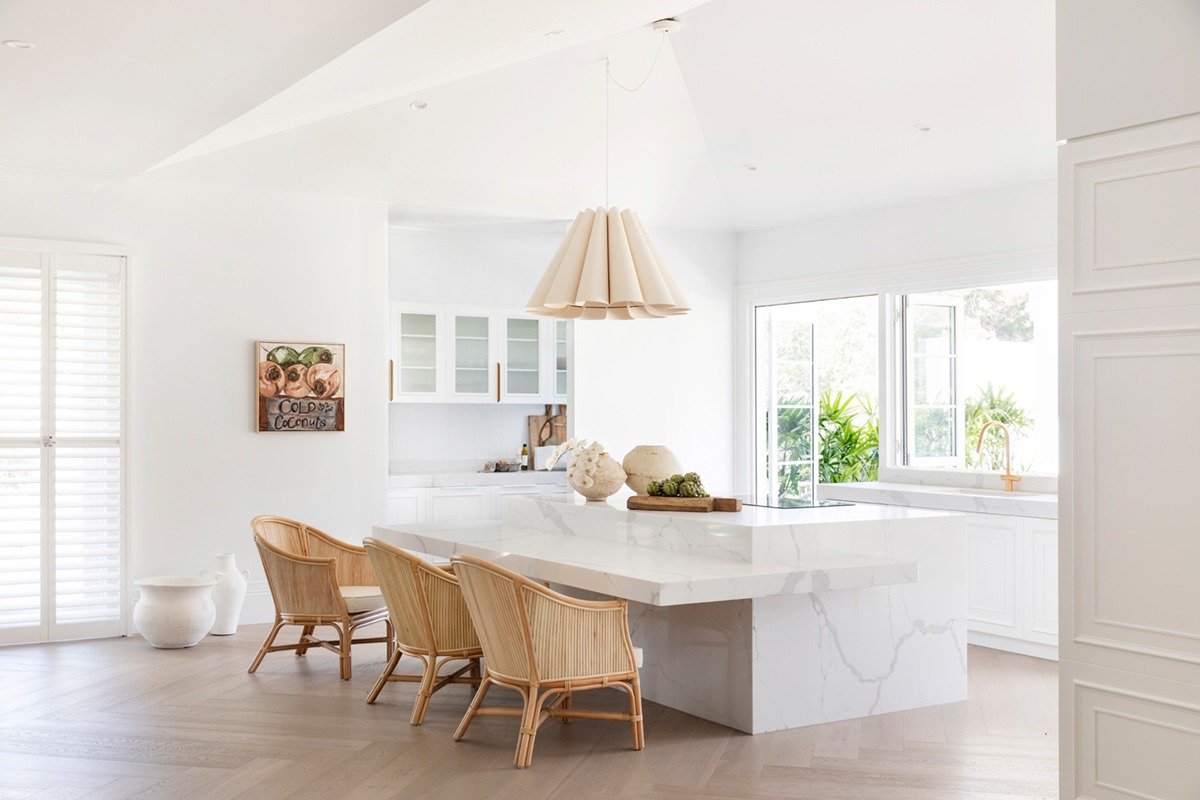 The Three Birds use Talostone® because "it is a premium engineered stone product which means it's highly durable, making it ideal for high-usage areas like kitchens, bathrooms and laundries."
Louisa and The Three Birds team came out to the Talostone® Sydney Warehouse to preview the slab selections in person. For the kitchen and butlers, they were looking for a stone with "a bigger vein but something a little more subtle".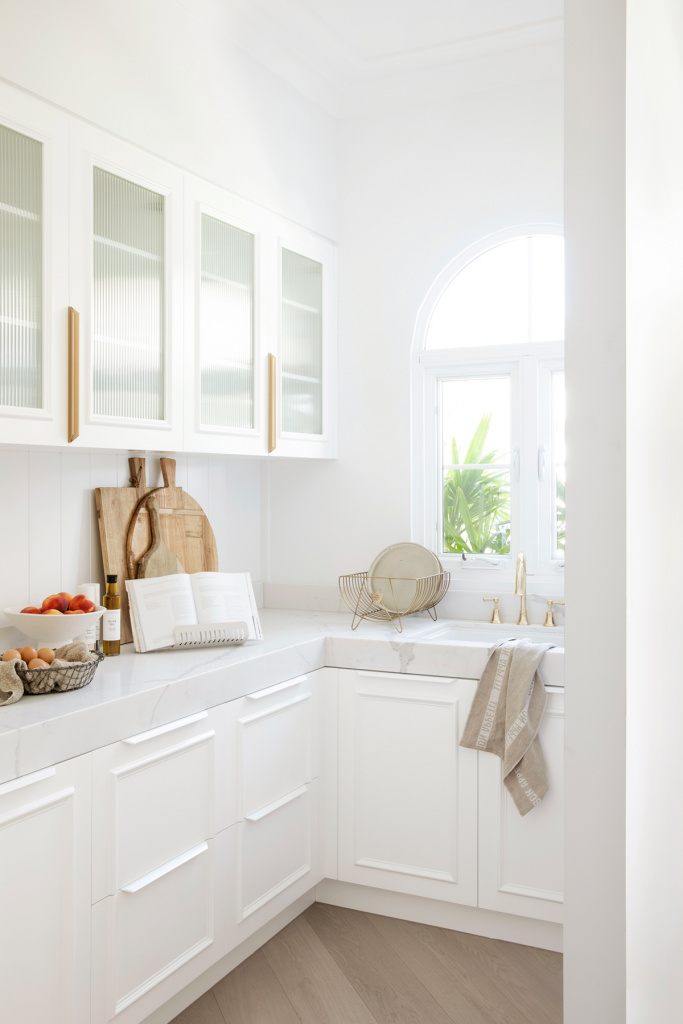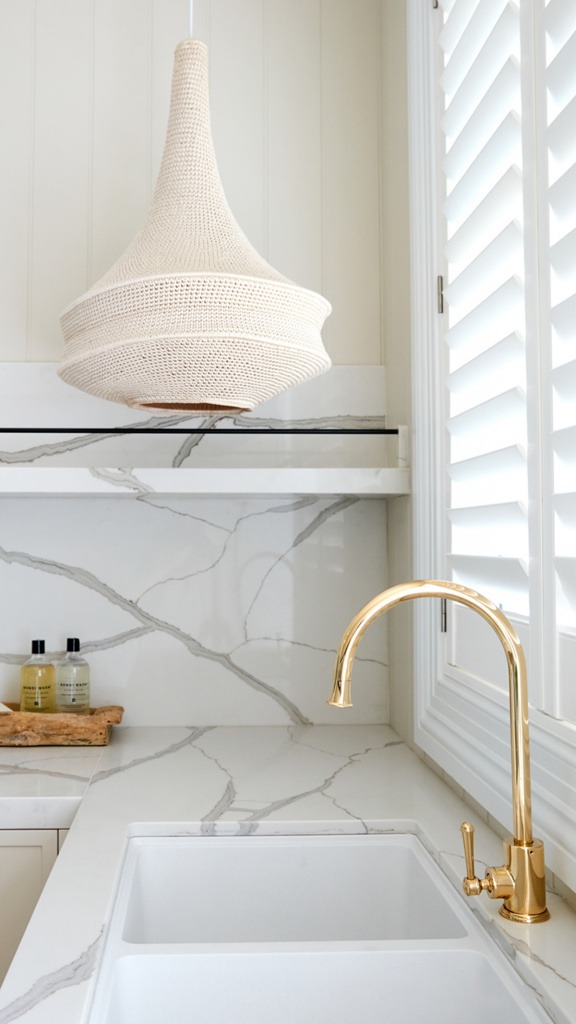 Even though Talostone
®
 do offer cut samples, The Three Birds team recognise the importance in seeing the slabs at size to get a clearer understanding of the colour and veining. As they perused the Talostone
®
 range of engineered stone slabs, the 
Calacatta Luxe
™
 in Matte was the perfect match for the house they were creating with a Luxe feel. "the Calacatta Luxe
™
in the Matte is just what everyone should choose if they ever don't know what to choose in a stone" says Bonnie. "It's like a little black dress, it's like a red lip to Lana. It's just beautiful and we are (gasp) very excited that it's going in the kitchen." The range of Talostone
®
 engineered stone slabs comes in different finishes depending on the colour which include polished, matte and a leather honed finish. "The matte is insane. It's like everything you've dreamed of", said Bonnie. The team were all so excited to have found the right stone for this dream kitchen. "The Talostone
®
 Calacatta Luxe
™
 is just divine. It's a beautiful stone, "says Bonnie. Lana agrees and adds that "the fact it's called luxe, is exactly right because this house is about that luxe feel".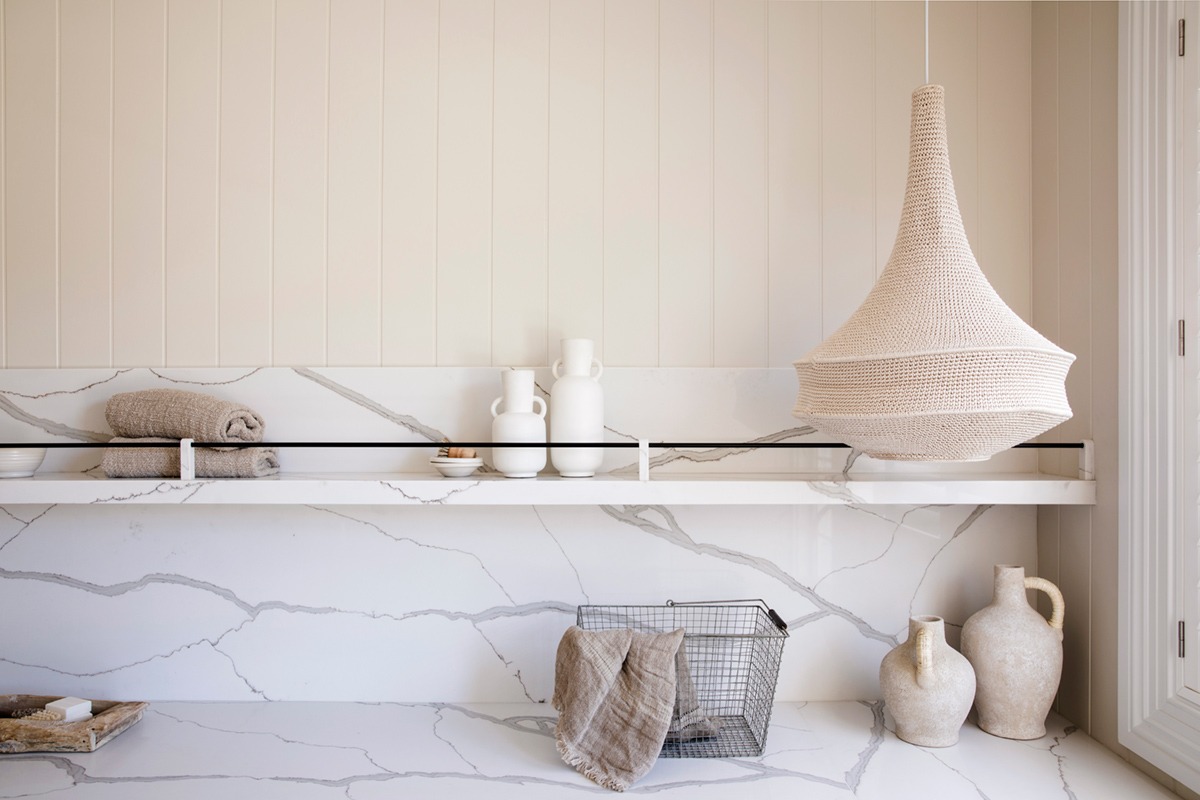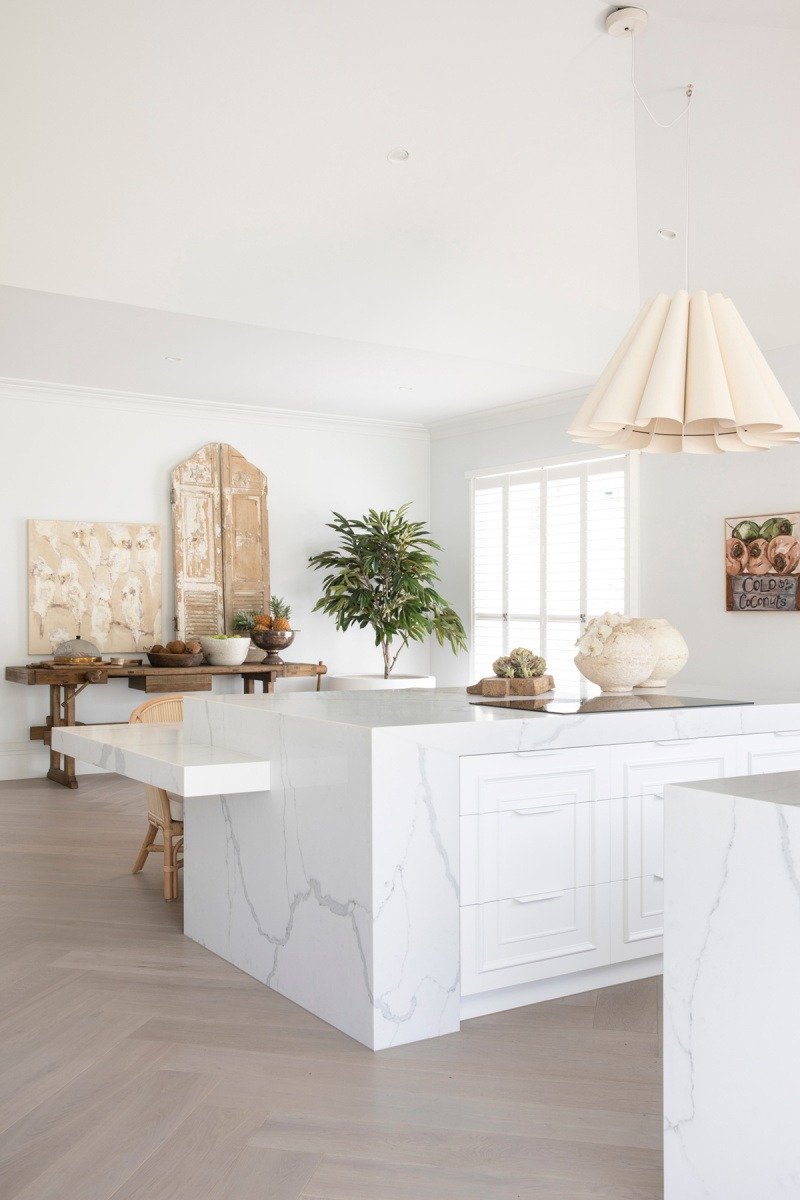 This special home has an abundance of beautifully crafted joinery by Carrera by Design. From the kitchen and butler's pantry, to the laundry, powder room, and pool house with the incredible bar featuring Onyx White. Bonnie pointed out that not all the selections need to be the same from room to room. "It's a lot of stone, and a lot of white" she says. When cleverly combined, a considered selection of stones and cabinetry finishes in complementary colours create the perfect cohesion of same same, but different.
For this reason, the team chose to feature different multiple engineered stones throughout the home and create perfect pairings for each room.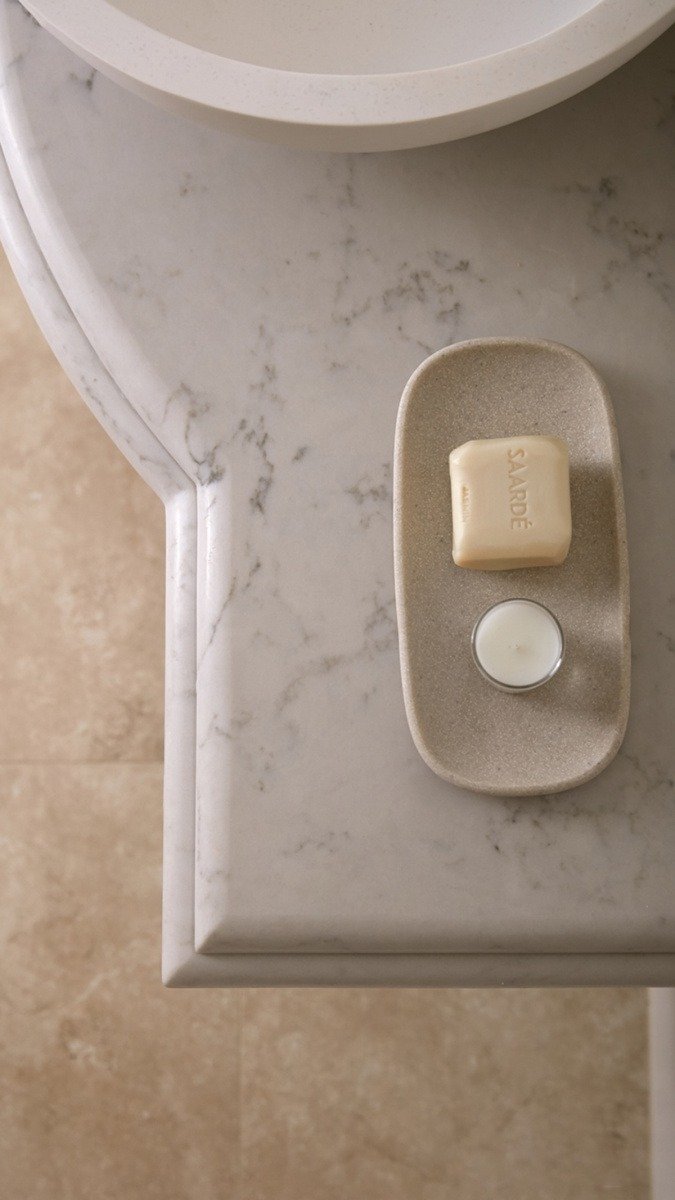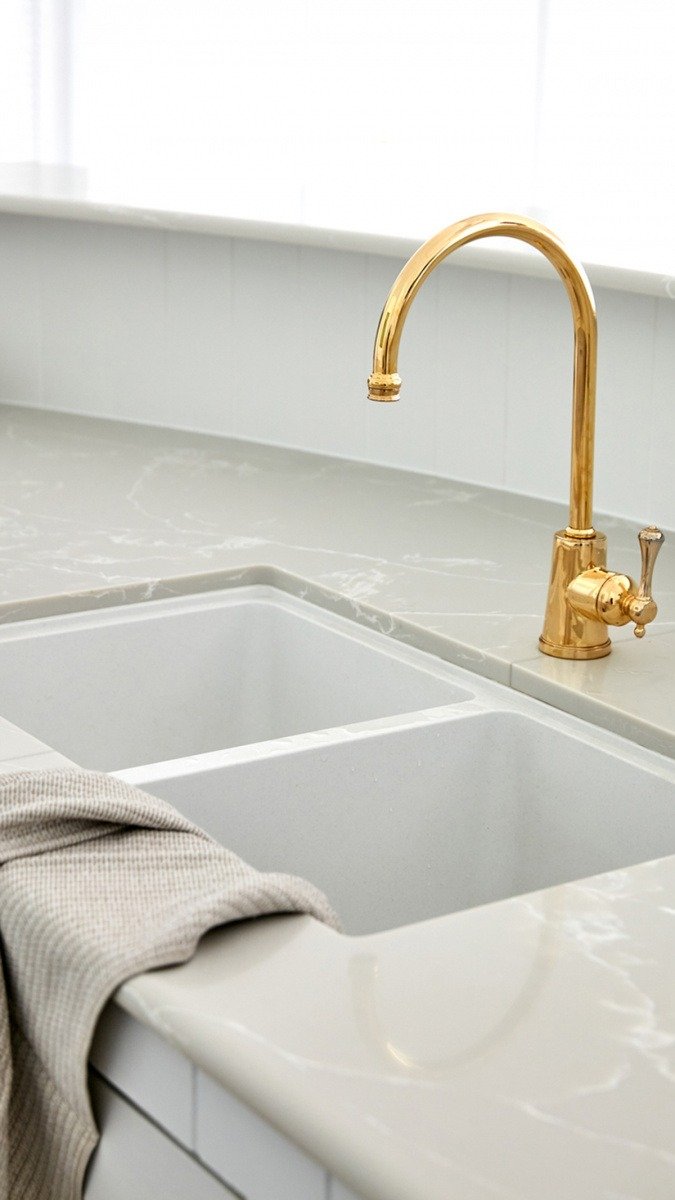 ❝
We love to see AND TOUCH samples of every product we choose for a project before making final selections so it's amazing being able to do this while seeing the gorgeous stone in-situ in the experience centre
The Three Birds have selected Talostone® to use on a number of their past houses they have designed. We have asked the Birds why they like to work with Talostone®;
What is your favourite thing about the Talostone® City Experience Centre in Waterloo (TCEC)?
It's about getting up close and personal with all the gorgeous stone colours and finishes. We love to see AND TOUCH samples of every product we choose for a project before making final selections so it's amazing being able to do this while seeing the gorgeous stone in-situ in the experience centre.
If you could choose only one Talostone® colour to work with for the next 3 months, which one would it be and why?
Oooh, don't make us choose! We've used five different Talostone® colours in this project because they're all so gorgeous and unique. If we really have to pick one, it'd be the Calacatta Luxe™ we've used throughout the kitchen and butler's pantry at House 13 because the white background makes it versatile across some many spaces in any home. It's hard to believe it's not real marble.
What other companies do you love sourcing material from to use in your designs?
A few of our faves you'll see in most of our projects are:
James Hardie — for gorgeous cladding, inside and out.
Tile Cloud — for stunning tiles. Wait till you see the bathrooms at House 13!
Intrim Group — choosing your own skirting, architraves and timber trims (rather than the standard ones your builder might choose) can really take a project to the next level.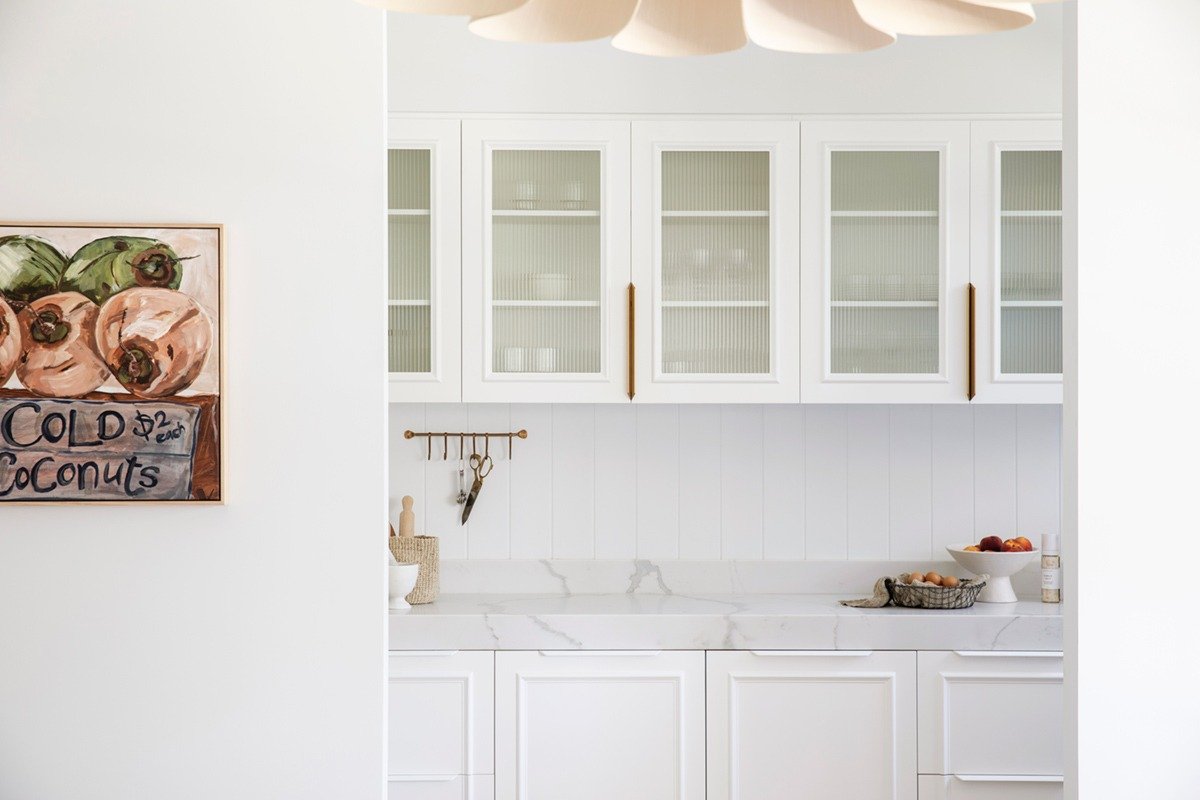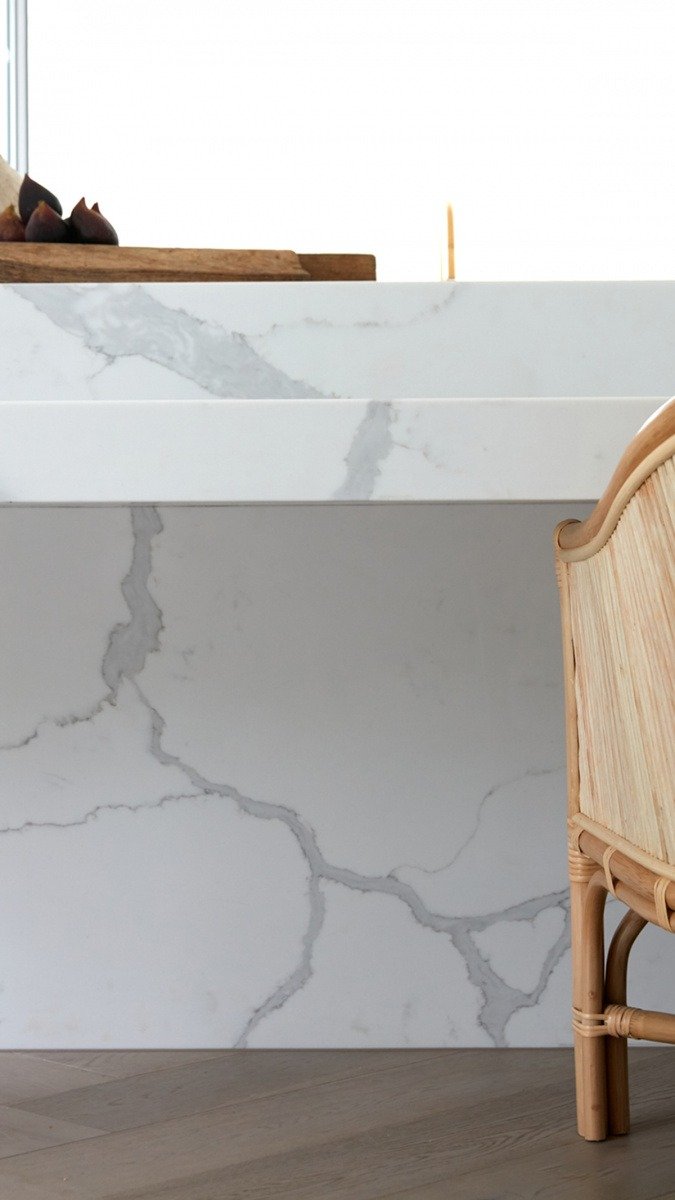 Where do you source your design inspiration from?
So many places! Our favourites are Instagram, Pinterest and glossy mags. We usually get lots of inspo from overseas holidays and hotels too but that's not happening much these days!
What is the biggest risk you have ever taken on a project and how did it turn out?
House 11 was definitely our riskiest reno yet! It was the first project we'd done where we asked the brave homeowners to handover their keys, their budget and full creative control… to us! They literally walked out of their family home and didn't come back until we'd given their family home an entire makeover. Luckily, they loved it!
What is your prediction for colour of the year in 2022?
We don't really make or follow trend predictions because the style for each project is always led by our vision board, not current trends. In terms of looks we're loving, we're currently crushing on tonal colour palettes, lots of neutrals with pops of statement colour.
How would you describe your personal style?
We do all agree that feeling like you're on holiday at home is always a good idea, so you might say that inspires our design style. We love anything coastal – think light, white, bright, airy, beach house… who doesn't want to feel like they're on vacay every day.
What is the one splurge item you think is important to have in any home?
When designing your dream home, the splurge items usually come down to personal preference. Bonnie and Lana both prioritised engineered stone benchtops and engineered timber flooring as splurge items in their family homes.
We hope you've loved seeing inside the Australian Staycation home as much as we have and have taken some inspiration to create your own dream staycation.
If you're in Sydney, come and visit us at the Talostone® City Experience Centre to see our full range in person or find us online www.talostone.com.au to preview the range. One of our friendly consultants would love to help you bring your vision to life with product information and samples.
Talostone® colours in project