One Slab to Rule Them All!!!
"I wanted my home to feel like we were on a never-ending holiday" 
For homeowner Chrissy Lewry, so much inspiration came from The Three Birds Reno School which was a huge help when planning her renovation. "I was lucky enough to have the opportunity to walk through Bonnie Hindmarsh's home (House 8).
Bonnie's home gave me so much inspiration, I walked away from her home knowing exactly the direction I intended to take my renovation."
We chatted to Chrissy about her renovation, how she turned her inspiration into a brief for her chosen kitchen supplier, and the journey around selecting the perfect stone for her 4.2m island bench.  
Selecting the right stone:
Chrissy shared with us, "the most difficult part of the kitchen was choosing the island stone… that had a white enough background, a gorgeous vein and had the ability to connect the veins. My kitchen bench is 4.2m long, so I needed more than one slab across the top of my island bench and matching the veins where the 2 slabs meet was one of the most important requirements of the stone."
"Vogue kitchens helped me with this decision, having used Talostone® in the past they knew that their range is beautiful and that Talostone® had the ability to connect veins when you have an extra long kitchen island."
Thankfully for Chrissy and anyone else planning to accommodate an extra long kitchen island, Talostone® has a selection of  Premium Marble slabs that are available in pairs. So, if your island is longer than the slab size of 3200mm, you can use their left and right hand slabs to connect the veins and make it appear like one flowing piece of marble.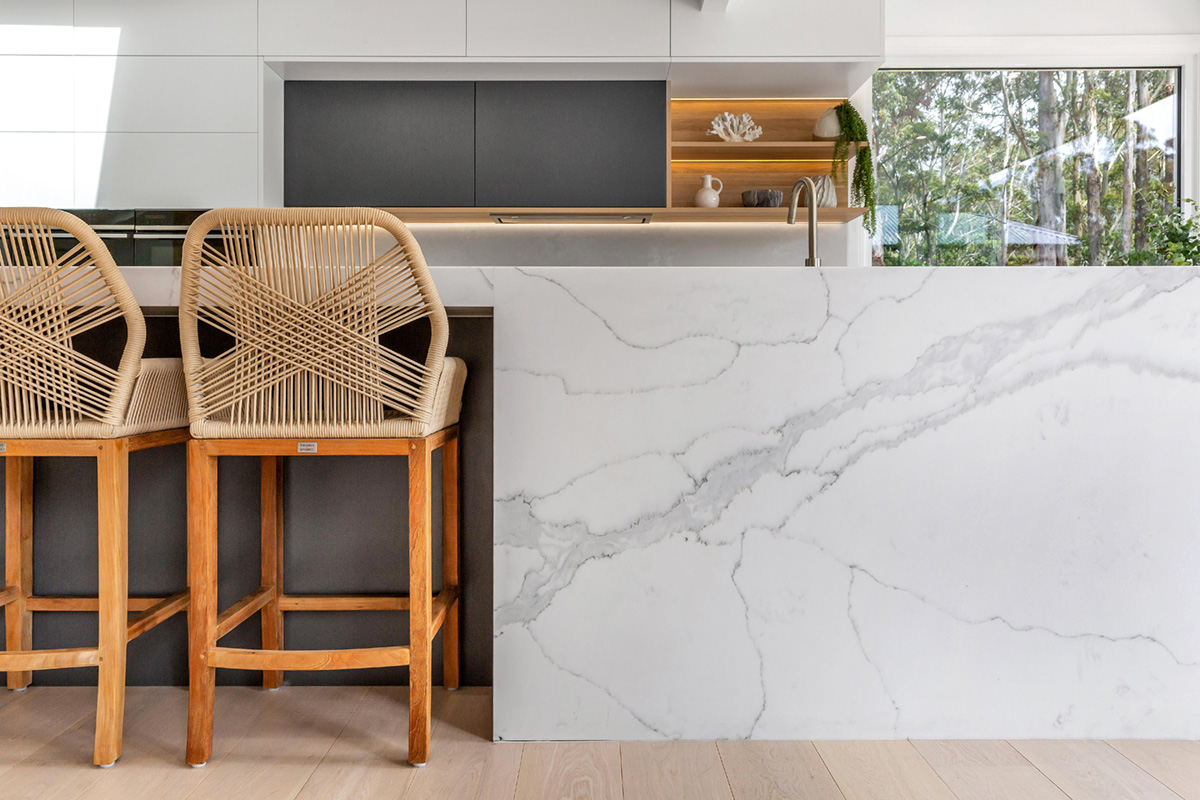 When it came to narrowing down what was important, Chrissy said, "there were three top priorities for the kitchen renovation. "… functionality, the kitchen needed to work effortlessly. The second was my colour palette, I knew exactly what I wanted so I needed to ensure all the colours were positioned well and complemented each other. The third was the overall feel of the kitchen, it needed to be inviting, full of natural light and accommodating to my large family."
When approaching kitchen designers, it's important to have a very clear brief. Chrissy said she had four inspiration photos from Pinterest and knew that she wanted a large feature Island with waterfall edges. "It was very important to me that I had a charcoal, white and timber kitchen. I changed the colours around a lot until I was happy with the colour blocks."
Vogue Kitchens was selected as the kitchen supplier and their project designer was Murray Dell. Murray took the brief from Chrissy and shared, our clients advised us they wanted a Vogue designer Kitchen that delivered the WOW factor. They were also after quality, in all their fittings, fixtures and finishes. The kitchen was to be the internal statement piece of the larger renovation by Balanced Building and needed to be the centrepiece of the adjoining rooms and their stunning alfresco quarters. Our clients were looking at colour-blocking, which is always a delicate balancing act, with a …showpiece kitchen  and an island that made a statement.
From initial brief and design concepts to material selection and colour consultation, construction and the finishing touches, Vogue Kitchens are dedicated to working with their clients to achieve a home that they want to live in. "We design using the zone planning rule, consisting of the following five zones. Consumable storage, non-consumable storage, preparation area, Cooking area, cleaning area", says Murray.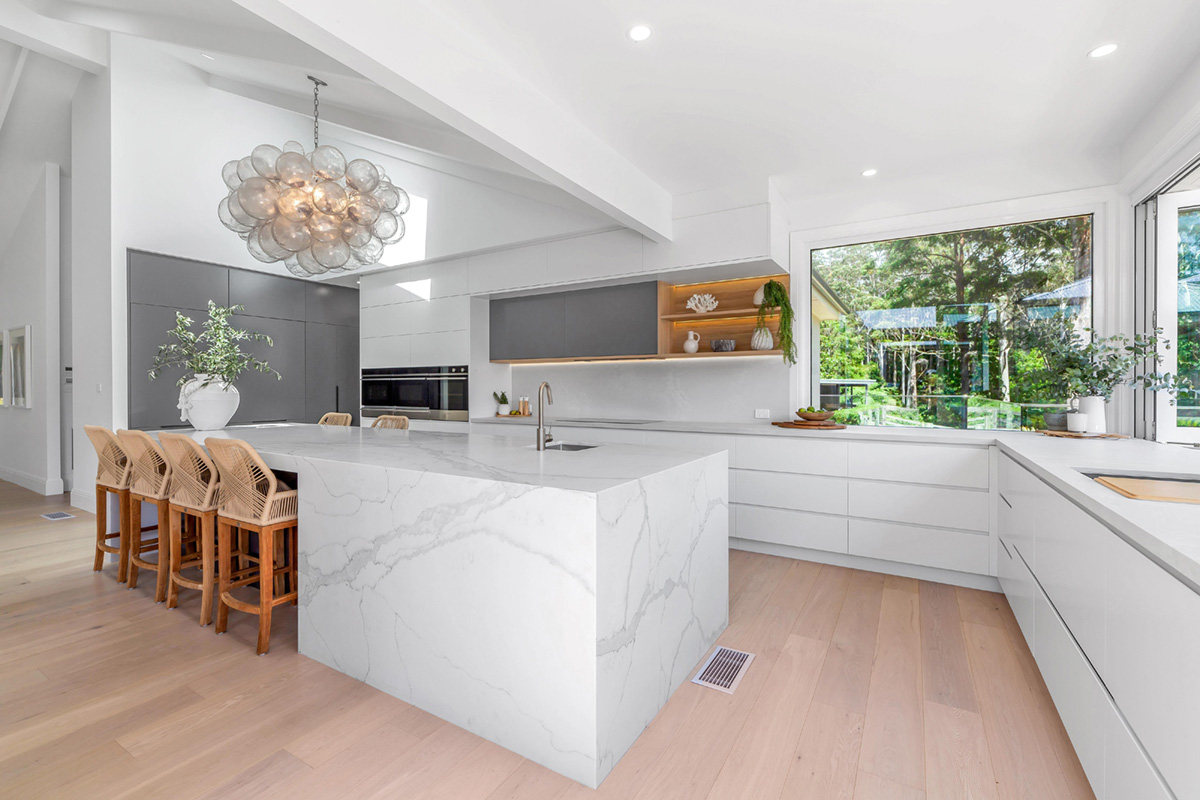 We absolutely love the colour options delivered by Talostone®, especially this Calacatta Luxe™
The team at Vogue Kitchens source materials from a variety of brands and companies based on what best suits the client's brief and their individual design requirements. "We absolutely love the colour options delivered by Talostone®, especially this Calacatta Luxe™."
Looking back now that the kitchen is in and at the heart of the family home, Chrissy reflects on her favourite decisions.
"If I was asked to pick some of my favourite features of the design, it would have to be the Calacatta Luxe™ 9030 island, it certainly has the WOW factor that we were after.  I also love my butlers pantry, having all the extra space of appliances etc.. and choosing two full sized connectable fridges accommodates my large family and lastly the sink in the kitchen island allows me to still be part of the family dynamic while making dinner etc. "
"Our biggest splurge item would be our pool but if I had to pick an internal item it would be my pendant over the Kitchen Island.  It's the same as Bonnie Hindmarsh's Three Bird Renovation I just loved it so I just had to have it."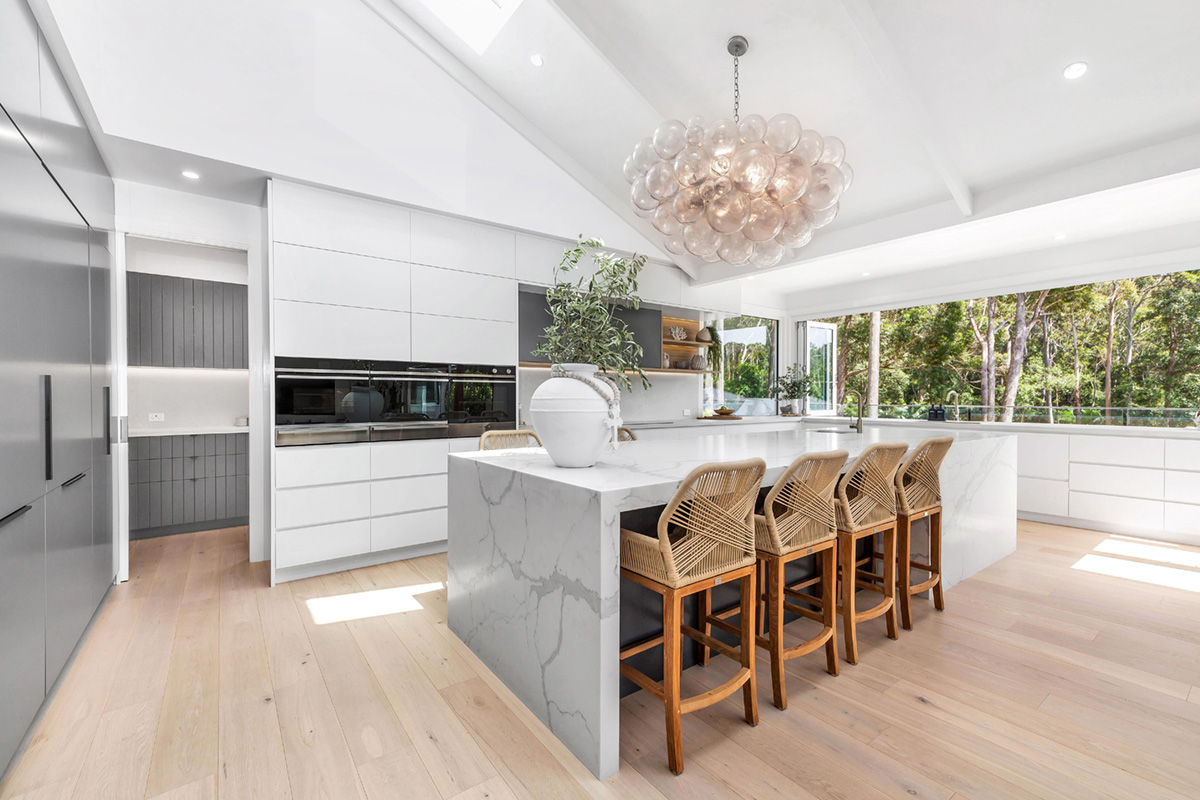 Vogue Kitchens is an award-winning renovation company. "Our passion is to give homes a fresh breath of life by transforming tired spaces into new rooms that families are proud to showcase. Our love for design and construction extends across all interior spaces, from kitchens to bathrooms, living spaces, alfresco living, walk-in-robes and laundries. Our team are abreast of the latest in innovative and functional technology, breath-taking colour palettes and the latest in materials."
As industry experts, we asked Vogue Kitchen to share some insight on current kitchen trends.
Colours
Light green seems to be making a comeback. Still seeing some dark greys and the warmth of natural timber tones.
Where to splurge
An automatic opening bin supplied through Blum Servo drive. This allows for bin opening when you have your hands full. Pantry inner drawers are also a must have.
Where to Save
Using a melamine door & spending the money on stone tops & quality appliances.