How to use Talostone®

in different applications
Stone on Feature Walls, around Fire Places and in Wine Cellars
There is so much to explore in this architectural designed home by Metropoint Group Architects. It is full of innovations and design inspiration that we found a new Talostone® perspective with.
This spectacular family home features Talostone® on dressing room tables, vanity benchtops and integrated basins, splashbacks and a custom entry door handles. This is why we apply the word spectacular, this home embraces full height vertical panels made from Talostone® slabs as bathroom walls, fireplace surrounds, cellar walls and some even back lit for ambiance.
Using engineered stone is an understated, yet undeniably striking surface to use for wet rooms. We commonly see its application on benchtops and splashbacks in kitchens, laundries, pantries and bathrooms…but when it comes to exploring engineered stone slabs as a solution for vertical wall coverings you might ask do we need a new perspective?
Metropoint Group Architects. explains that "full height vertical panelled Talostone® slabs look amazing on a wall application in wet areas. Installation is simplified, vertical joints are minimised, and they are easy to cut to size so that they can be personalised to fit within a space. Cleaning is effortless and the stone performance is also great in terms of low moisture absorption in the wet areas. Hence, it is high performing but low maintenance. It is easy to clean, durable and sustainable. They are also resistant to scratches, scuffs, dents, stains, and burns." This is all starting to sound like a natural choice for us.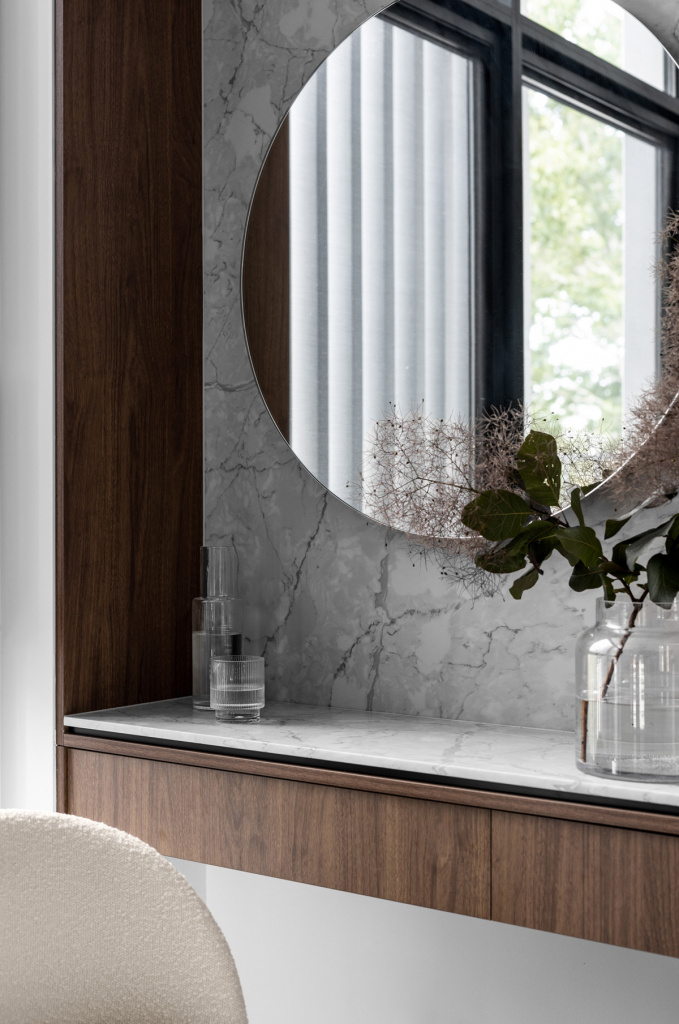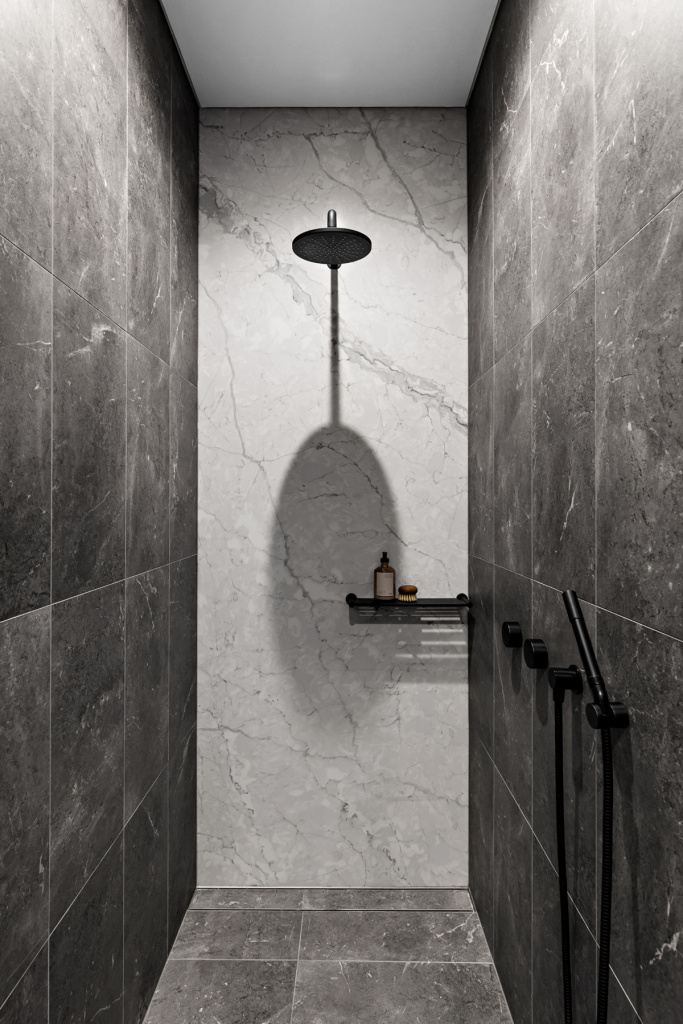 ❝
FULL HEIGHT VERTICAL PANELLED TALOSTONE®
SLABS LOOK AMAZING ON
A WALL APPLICATION
IN WET AREAS​
When the opportunity presented itself to maximise a bold, yet simple aesthetic together with low maintenance, it made sense to stick to the same materials and mix up the colours. Designers at Metropoint Group Architects.  showcases Talostone's® 3200mm slabs on all of the vertical surfaces in this bathroom including Talostone® Calacatta Gold™ (back lit wall panel) paired with Talostone® Marquina Polished™ (Feature Wall & Benchtop) and Talostone® Neutral White™ (Rest of Walls). By installing lighting behind the slab it creates an ambient glow, as seen here and reflected in the vanity mirror.
Not often seen, but all the more reason to explore, is using Talostone® as part of your next fireplace project. Metropoint Group Architects. specified for this St Ives home, the Element 1200 by Real Flame to be integrated into one of the living spaces. It is seen here as enveloped by Talostone® Super White™ together with polytec Rojo Walnut in Woodmatt.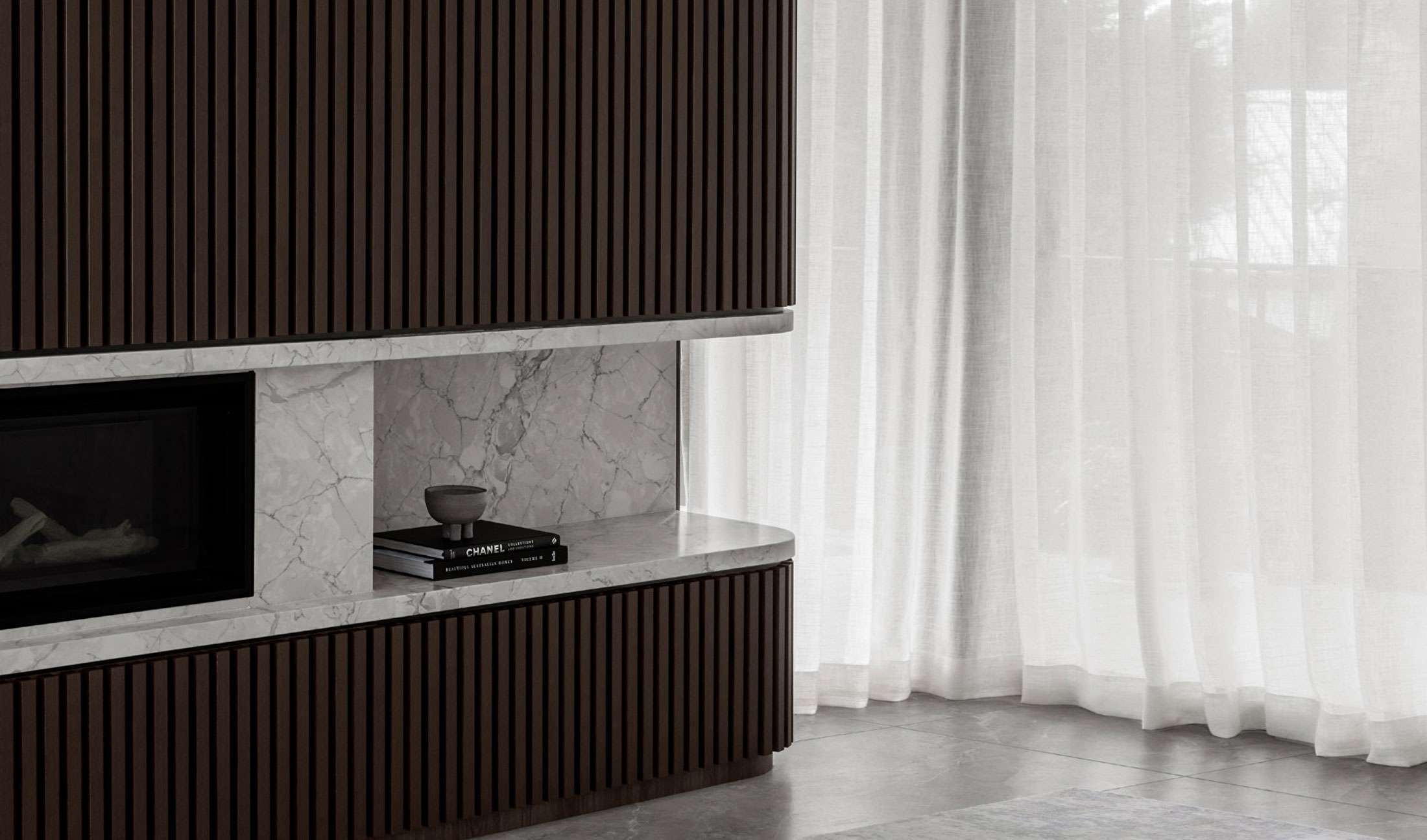 The ability to use Talostone® for these surfaces requires some thoughtful specification. Before embracing this surface application, it's important to ask the questions of your trades team to ensure it is suitable. Metropoint Group Architects.  explain that "Talostone® is heat resistant and in general can be moderately exposed to high temperature. However, due to the nature of engineered stones, heat can cause cracking or melting to resin. In order to resolve this issue and make it even safer, generally you will need to install a metal angle between the heat source and the stone to redirect the heat from the firebox without touching the stone surface. A thermal pad underneath the stone slab can also be considered."
If you were thinking that all this fireplace setting is missing was a glass of red wine, then follow us over to the cellar of this St Ives home that just keeps giving. Using Talostone® in wine cellars makes perfect sense as it speaks to a distinguished taste.
Metropoint Group Architects. told us, "Wine cellars are a wine connoisseur's happy place; hence the design intention is to use Talostone's® Super White Matte™ as a feature creation for a modern interpretation of a wine cellar.
Talostone's
®
Super White Matte
™
stylish appearance is defined by significant natural elements consisting of elegant tones of cool grey colours contrasting dark grey veining makes a bold statement and contrast well with the custom fit timber joinery wine racks. Modern technology in this wine cellar can keep things comfortably temperate with climate-control air conditioning. With this luxury setting – what more is needed to life, Enjoy … with a nice glass of pinot noir, perhaps? Indeed, a distinguished taste."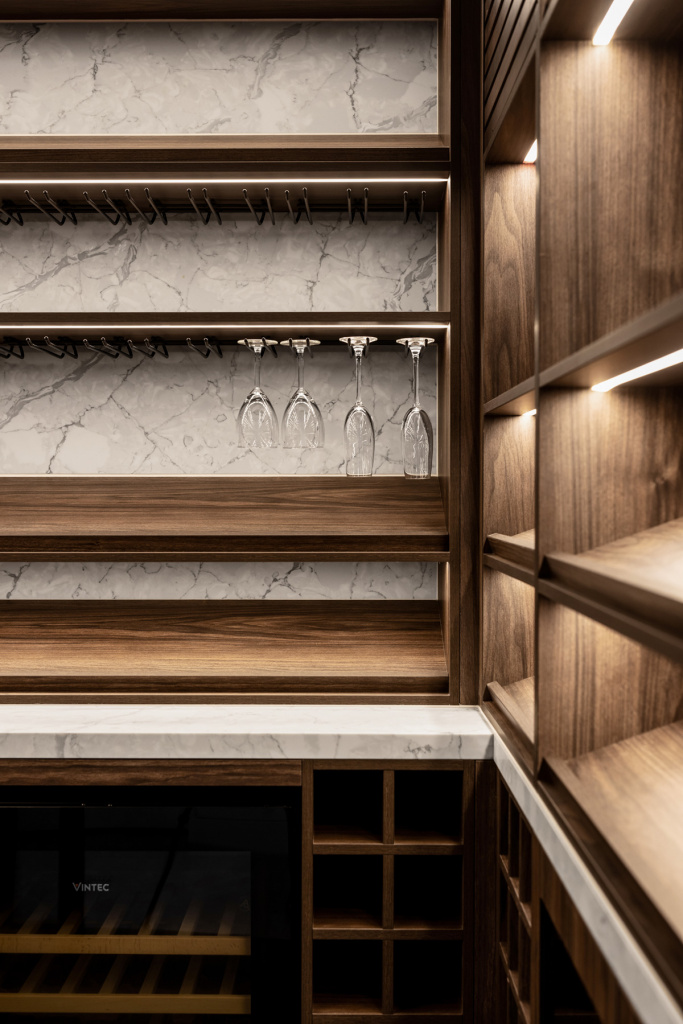 Not only is Talostone® an aesthetic choice when applying the slabs as wall panels, but can also be a smart choice
Not only is Talostone® an aesthetic choice when applying the slabs as wall panels, but can also be a smart choice. Metropoint Group Architects confirms that "the excellent low moisture absorption performance of Talostone® makes it a good selection choice for a professional wine cellar design consideration. With proper insulation and wine cellar conditioners, temperature and energy benefits are maximised."
The preferred stonemason who meticulously worked on this St Ives project was D&J Masonry. "An experienced stonemason makes a difference in a project. Correct preparation and installation are essential to ensure quality work and the long life of the project. Personality of the stonemason is also important. D&J Masonry…is an excellent 'can-do attitude' stone mason, who is willing to test on our design – anything is possible!"