Custom build with natural light and holiday vibes
How to design a house with that holiday feeling? As put by Julian from custom home builders Belle Lifestyle Homes, "This is the biggest investment of your life and we don't want anyone to settle on a cookie cutter design. Your home = Your Lifestyle".
When taking on the mammoth challenge of building your own home, it's preferable to work with custom builders to achieve a bespoke finish that you are 100% happy with. Quality bespoke builders, Belle Lifestyle Homes have a network of trusted trades that they work with including custom building designer Straightline Studio Co. and kitchen and joinery specialist Vicello Kitchens. Amongst others, these businesses along with suppliers like Talostone® together form a partnership of shared values when it comes to offering their clients unique design, high quality craftsmanship and exceptional spaces for their clients. Working with a team of experts that you can trust takes out so much stress and uncertainty that can make or break the entire experience.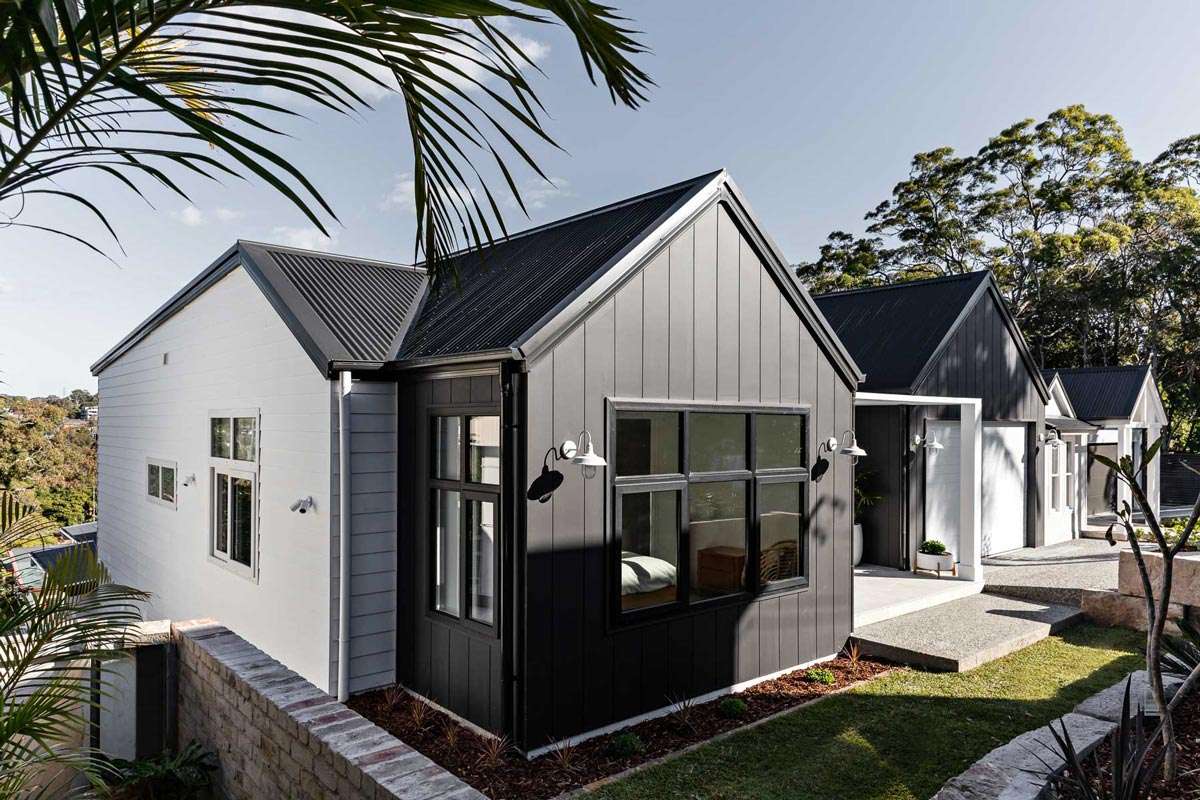 Como House owners, together with the dream team were heavily involved in the selection process to ensure the finished home was beyond their expectations. Led by the trusted experts to make their selections, they arrived at Talostone® as the engineered stone recommended by Vicello Kitchens for the kitchen, bathroom and laundry.
"We love the entire Talostone® colour range", said Victoria from Vicello Kitchens. "The marble replications are so impressively authentic; they're our go to for any clients seeking a marble look with the added benefits of engineered stone."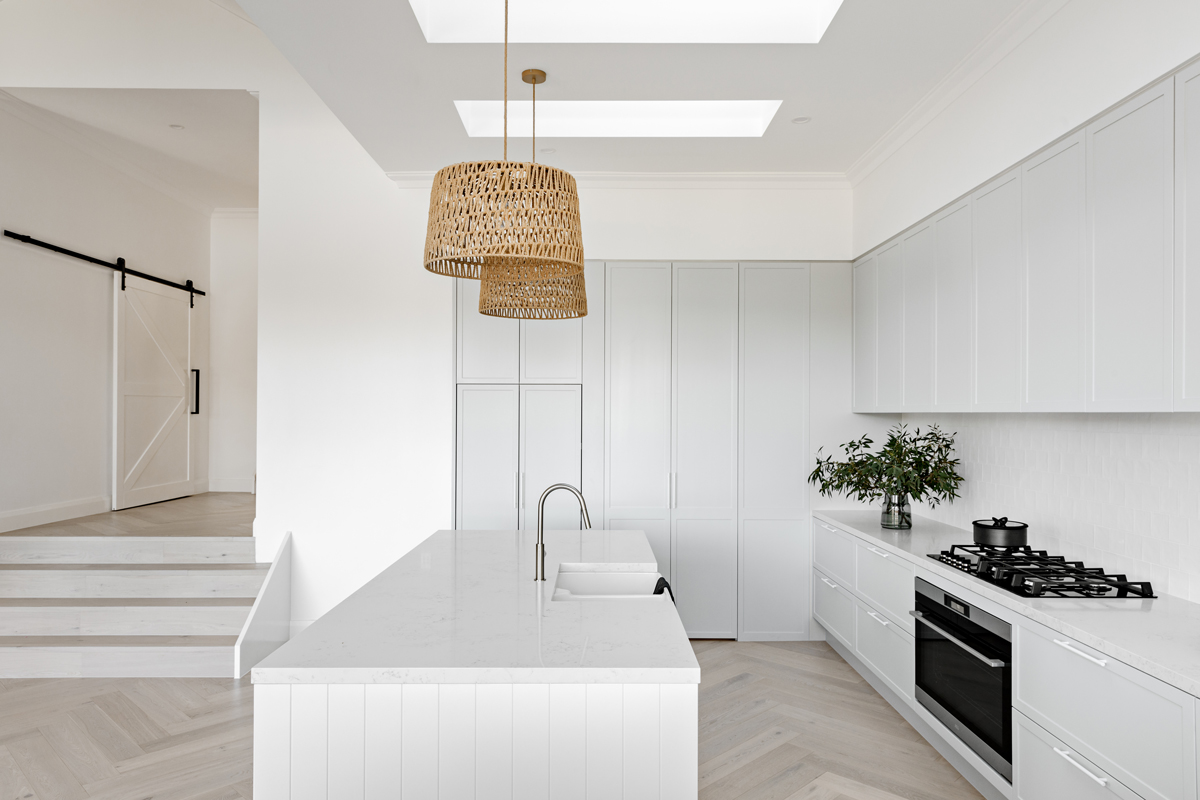 ❝
The marble replications are so impressively authentic; they're our go to for any clients seeking a marble look with the added benefits of engineered stone.
Set on a challenging 10.5 metre sloping site, this multi-level home was designed to harness the steep incline to its advantage.
"Adhering to the client's request for a home that has a strong sense of open space and harnesses natural light to create a bright and inviting abode, we designed cleverly positioned windows and skylights to allow ample sunlight to flood the home", shares Belle Lifestyle Homes.
This architectural masterpiece spans over two floors and features a large outdoor entertainment area which reaches around to a further third level which is home to a generous swimming pool. The home also features a towering cathedral roof, three skylights and floor to ceiling windows and French Doors which open out onto the alfresco area.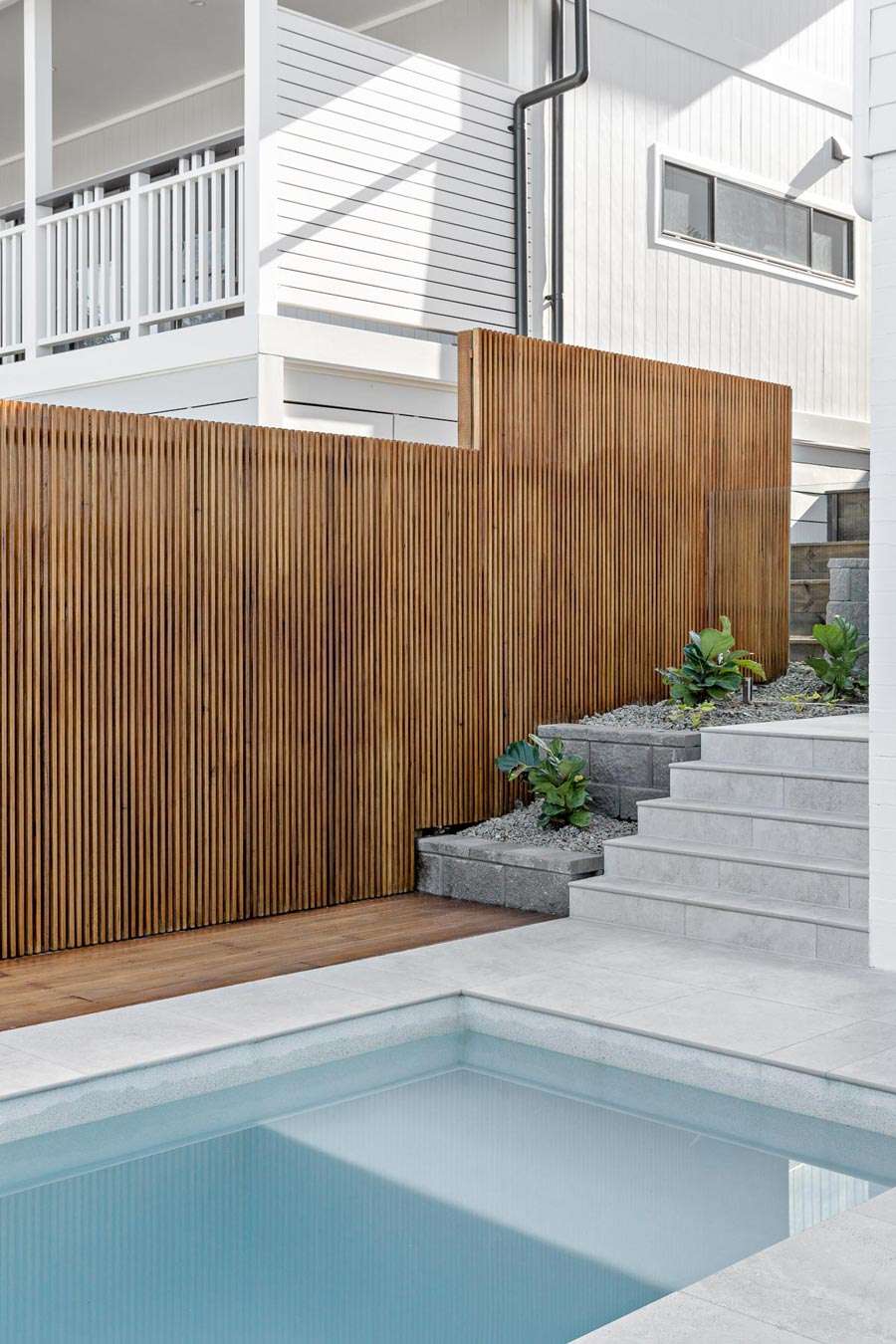 Each bathroom has been impressively designed to include a wet room, which allows for an open shower, with ample natural light coming from the above skylight and complemented with brushed nickel tapware and accessories.
Vicello Kitchens discussed, "Two significant features we needed to incorporate into the kitchen were that the fridge appear seamless with the walk-in-pantry wall and that the kitchen design includes a combination of both shaker and v-groove profiles."
The client had a very clear vision for their home and joinery which allowed for an easy and streamlined design process. Naturally, the primary goal was to create a beautiful and functional kitchen whilst also integrating the design elements which were important to the client. Talostone® was a natural choice for these spaces. 
Victoria explained, "We worked closely with Belle Lifestyle Homes to put walls and headers in all the right places and made a provision specific to the integrated fridge, allowing us to panel the entire wall and conceal the walk-in pantry doors, creating a seamless look. It was a bold decision to include two very different door profiles within a single space. We worked through the particulars of each profile together with the client and settled on a slimline 40mm shaker and evenly spaced the v-groove, spaced 100mm apart. All of these design elements were carefully considered and intentional, allowing the combination of both to look elegant and restrained."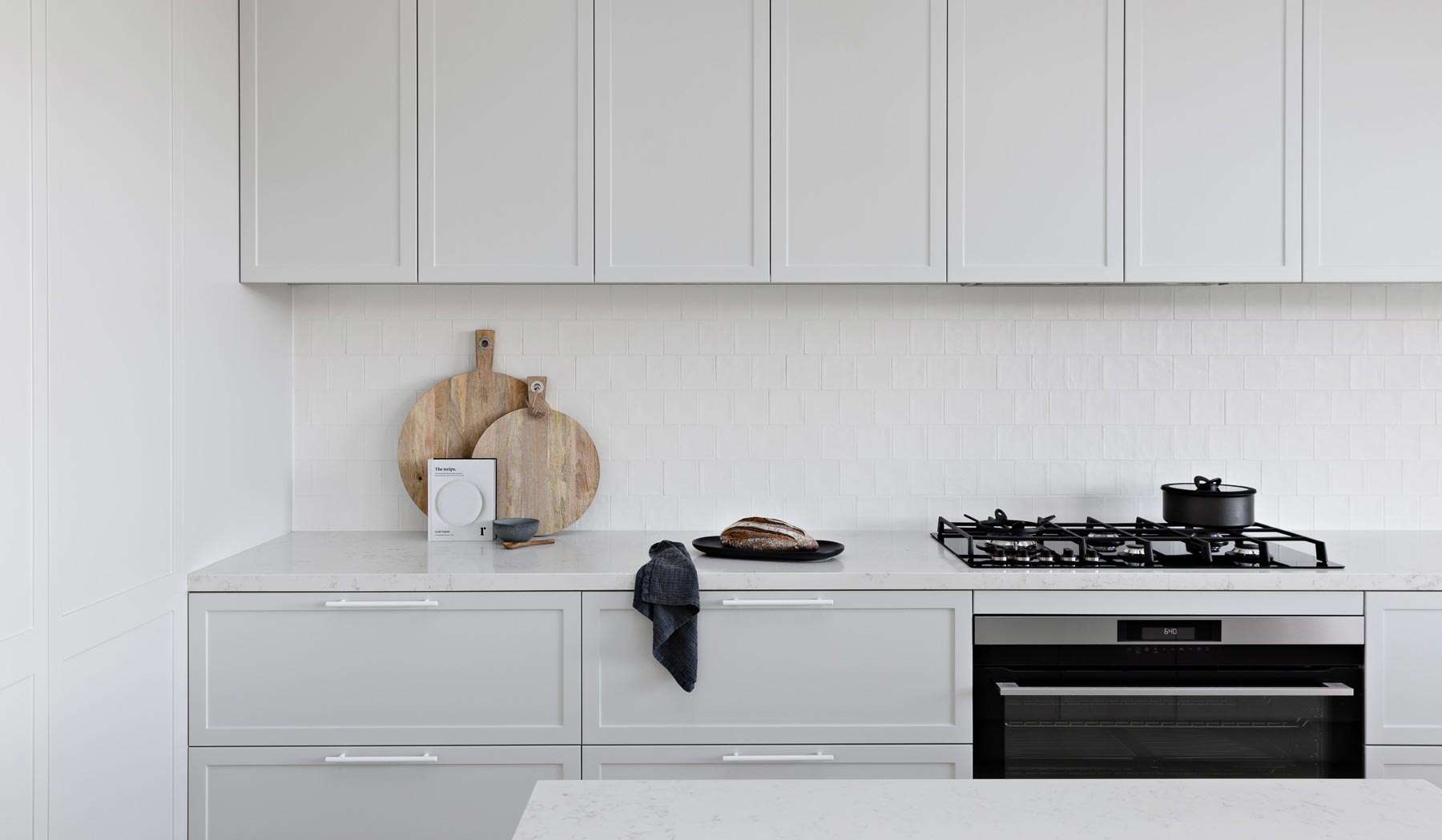 With shaker style joinery throughout the home, it gives a sense of consistency and cleanliness. The tones of the home are white, which adds a crisp finish to the already impressive design elements.
"We have engaged Vicello Kitchens for just over a year now and the creativity and workmanship is impressive", Rachael says. "Our clients meet with us first to select their appliances and internal finishes and then meet with Victoria and her team to design their kitchen and joinery. Vicello is not just a cabinet maker', they design, present and discuss ideas with our clients and come up with incredible finishes, just like our Como project.
The desired result was a success, when the owners took the keys to their finished home, "they were honestly over the moon! They couldn't believe that this was their home! That they actually owned it! It was great, we were so proud of it and just their reaction topped it off", shared Belle Lifestyle Homes.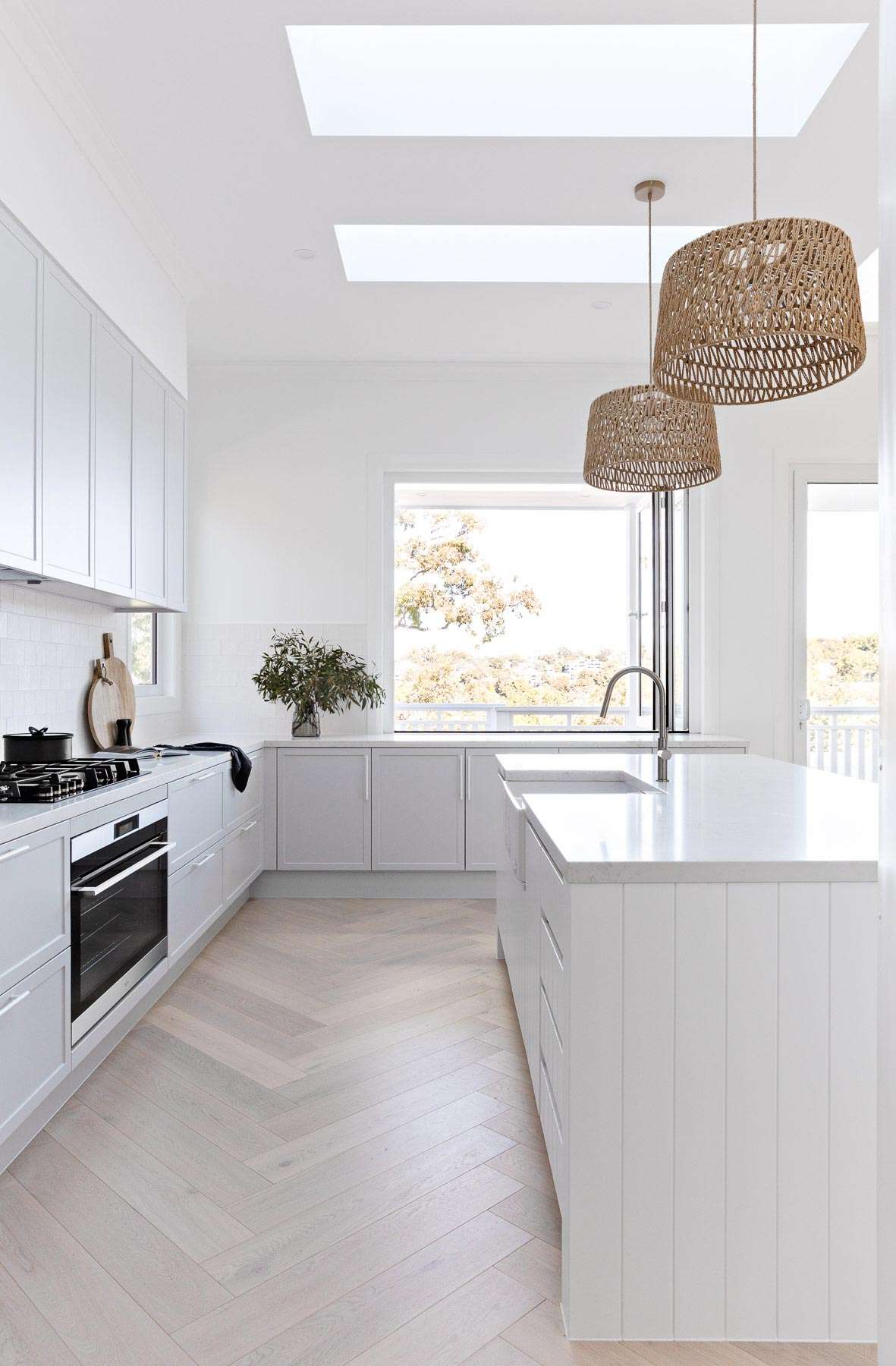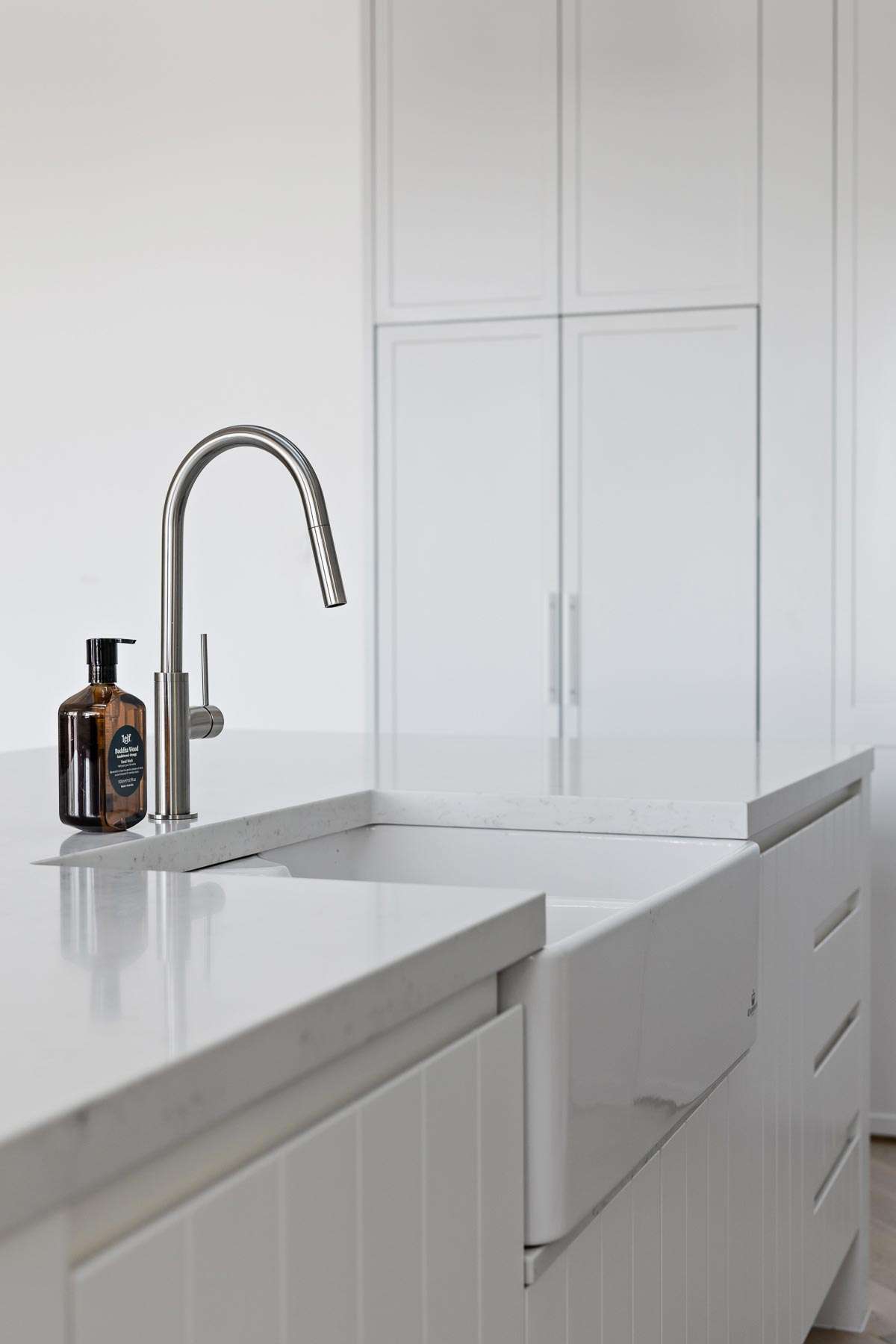 ❝
they were honestly over the moon! They couldn't believe that this was their home! That they actually owned it! It was great, we were so proud of it and just their reaction topped it off.
We've certainly seen a shift from laminate to stone benchtops in recent years. Engineered stone is far more durable and easily maintained, making it perfect for laundry and vanity benchtops, being such high traffic areas in any home.
The client was instantly drawn to the subtleness of Talostone® Carrara ClassicTM engineered stone and we agreed it was a perfect selection for the project.
"We chose to invest in the Kitchen, being such a central part of the home and living space. Talostone's® Arctic WhiteTM complemented the bathrooms and laundry joinery perfectly, so it was a great result", said Victoria from Vicello Kitchens.
Victoria also says it's her aim to utilize the entire slab and not let any off cuts go to waste.
"We often look at the number of stone slabs we need for a kitchen and work with the mason to determine the size of off cuts we can expect. We're then able to map out other areas within the home where they can be used, perhaps in the laundry or vanities."
We asked both Belle Lifestyle Homes and Vicello Kitchens what their top tips were when planning a renovation or home build. Their responses were, not surprisingly, synonymous;
The 3 P's! Plan, Pinterest and Prepare – Pinterest is such a great resource with so many inspirational photos that you may want to incorporate into your own home.
Engage experienced trades and suppliers you know you can trust- you need to have a "good feeling" about the trades people you choose to work with
Sit down with your builder/designer/architect and work out your plans together. It's vital your trades understand your vision and budget so they can present appropriate options for consideration
Prepare a budget and stick to it.