7 Stunning Engineered Stone Kitchen Designs
In today's modern kitchen designs, engineered stone has become increasingly popular due to its versatility, durability, and stunning aesthetics. Talostone®, a leading provider of engineered stone, offers an array of designs that can transform any kitchen into a luxurious space.
From curved countertops to seamless veining, Talostone's® range boasts unparalleled authenticity and elegance. In this Journal, we will explore how Talostone® can be utilised in different applications, highlighting its unique features and showcasing the expertise of some of our favourite interior designers.
Affordable Luxury with Talostone's® Deluxe Range: Serene White™: For those seeking a more affordable option without compromising on quality, the Deluxe Range is the ideal choice. The Serene White™ colour exhibits the same key features of Talostone®, including stain resistance, heat resistance, and chemical resistance. This kitchen design exemplifies how the Deluxe Range can enhance your interior space while keeping costs in check.
Unparalleled Authenticity – When it comes to replicating the beauty of natural marble, Talostone® stands unrivalled. Talostone® prides itself on its ability to provide the most authentic marble replication on the market. By utilising cutting-edge technology, Talostone's® engineered stone captures the intricate details, veining patterns, and colour variations found in most genuine marble, offering a luxurious aesthetic without the associated maintenance. Talostone's® Calacatta Oro™ in matte features in this timeless, light filled and fresh kitchen design below.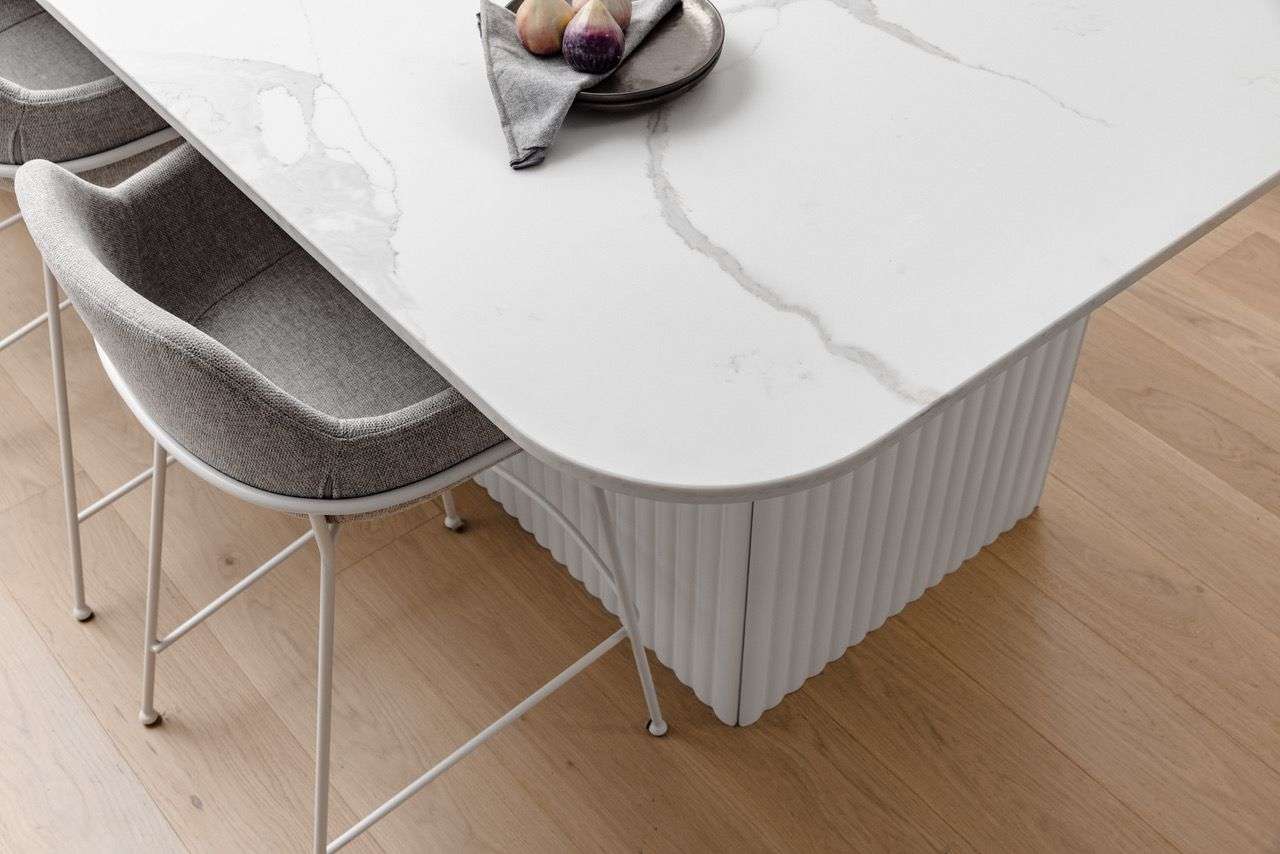 This stunning kitchen design showcases the elegance of Talostone's® Lord White™ engineered stone. The kitchen features white cabinetry, creating a clean and sophisticated look. The focal point of the design is the curved island bench, which adds a touch of uniqueness to the space. Talostone's® Lord White™ engineered stone is used for both the splashback and benchtops, bringing a luxurious feel to the kitchen. With abundant natural light streaming in, this kitchen becomes a welcoming and bright space, perfect for cooking and entertaining.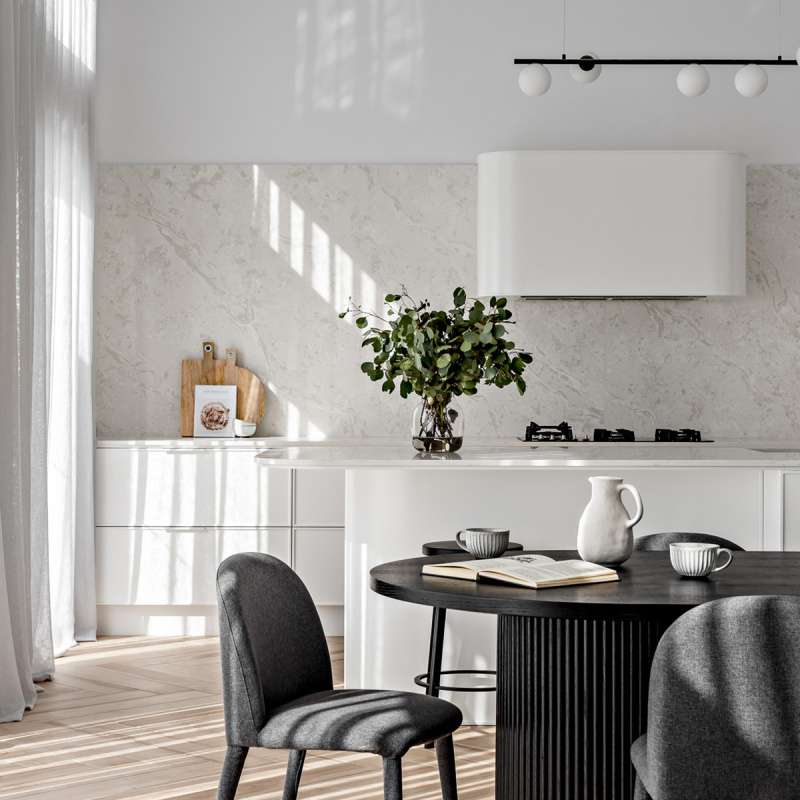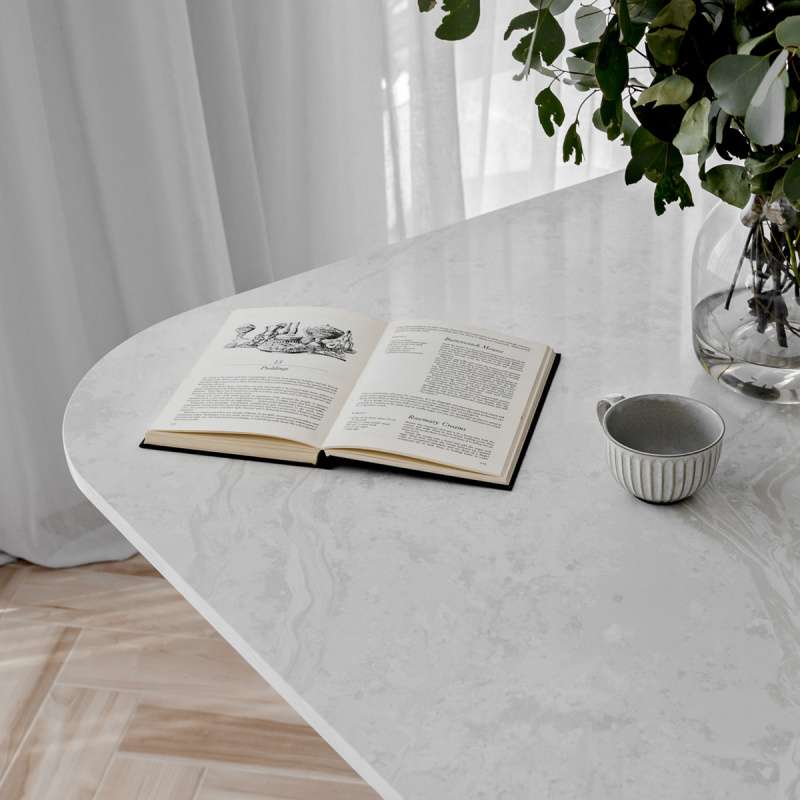 In this Journal, we will explore how Talostone® can be utilised in different applications, highlighting its unique features and showcasing the expertise of some of our favourite interior designers.
The Timeless Beauty of Talostone's® Marmo Gris™ in a leather honed finish. The leather honed texture, the warm tones and delicate veining create a sense of luxury. You will find yourself having to run your hands across the surface to feel the beautiful texture of the stone. This kitchen design showcases how Marmo Gris™ can be incorporated into benchtops and splash backs, and complements both black and white cabinetry.
In the exquisite design by Builder's Wife, the beauty of Talostone's® Arabescato Nero™ is brought to life, accentuating the bold veins of the stone used on both the kitchen island and splashback. Renowned for her impeccable taste and meticulous attention to detail, Builder's Wife skillfully combines various elements, allowing the stone to shine as the true centerpiece of the kitchen. The veins of Arabescato Nero™ boldly weave their way through the space, creating a captivating visual impact that elevates the overall design.
If soft curves and flowing lines are on your wish list Talostone's® engineered stone can make this a reality. Talostone® can be expertly crafted into curved benchtops, adding a touch of elegance to your kitchen design. The malleability of Talostone® allows for seamless integration, ensuring a smooth and visually pleasing transition between surfaces. To curve engineered stone you will need a stone mason that is skilled in this field.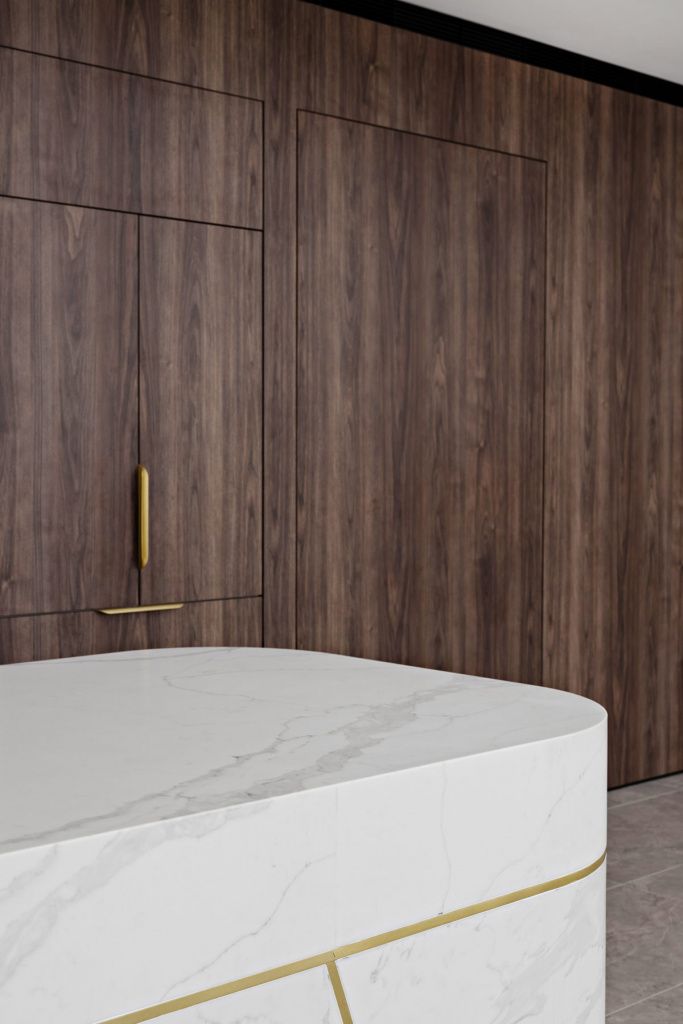 Talostone's® Premium Range offers a remarkable feature that sets it apart from the rest, with the availability of right and left-hand slabs. This allows the veins in the stone to seamlessly connect, creating the illusion of a single, uninterrupted piece of genuine marble. The result is a captivating and visually striking bench top, making a bold statement in your kitchen.
Talostone's® Super White™ stone features in the kitchen below. A left and right hand slab has been used for the splash back, as well as for the island benchtop across the top of the island, and down the waterfalls to connect the veins. The kitchen island has a 80mm curved edge.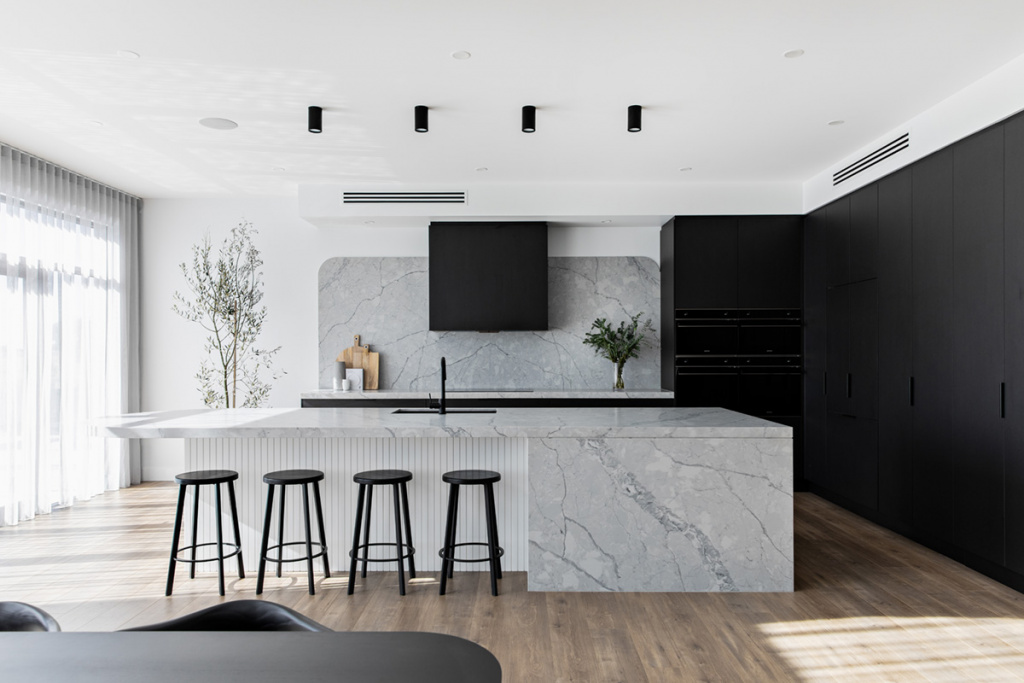 Talostone's

®
engineered stone offers limitless possibilities for transforming your kitchen into a space of elegance and luxury. Whether you opt for curved designs, seamless vein continuity, or the timeless beauty of marble, Talostone's
®
range of options is sure to impress. With Talostone's
®
range, your kitchen can become a true masterpiece, showcasing the authenticity, durability, and exquisite aesthetics that Talostone
®
provides.
Feeling inspired by the stunning design elements featured in this article?
If you'd like to experience products firsthand, click the link below to request a sample.